Interior Branding Made Simple With Custom Furniture
The biggest benefit of custom furniture is that you can make it just the way you want. There are no limitations in colours, materials and size. This ultimate design freedom can be a huge asset in interior branding. Given that the client's needs differ, architects strive to find unique, perfectly matching solutions for every project. But it might be hard (if not impossible) when you always have to choose among the same pre-designed items.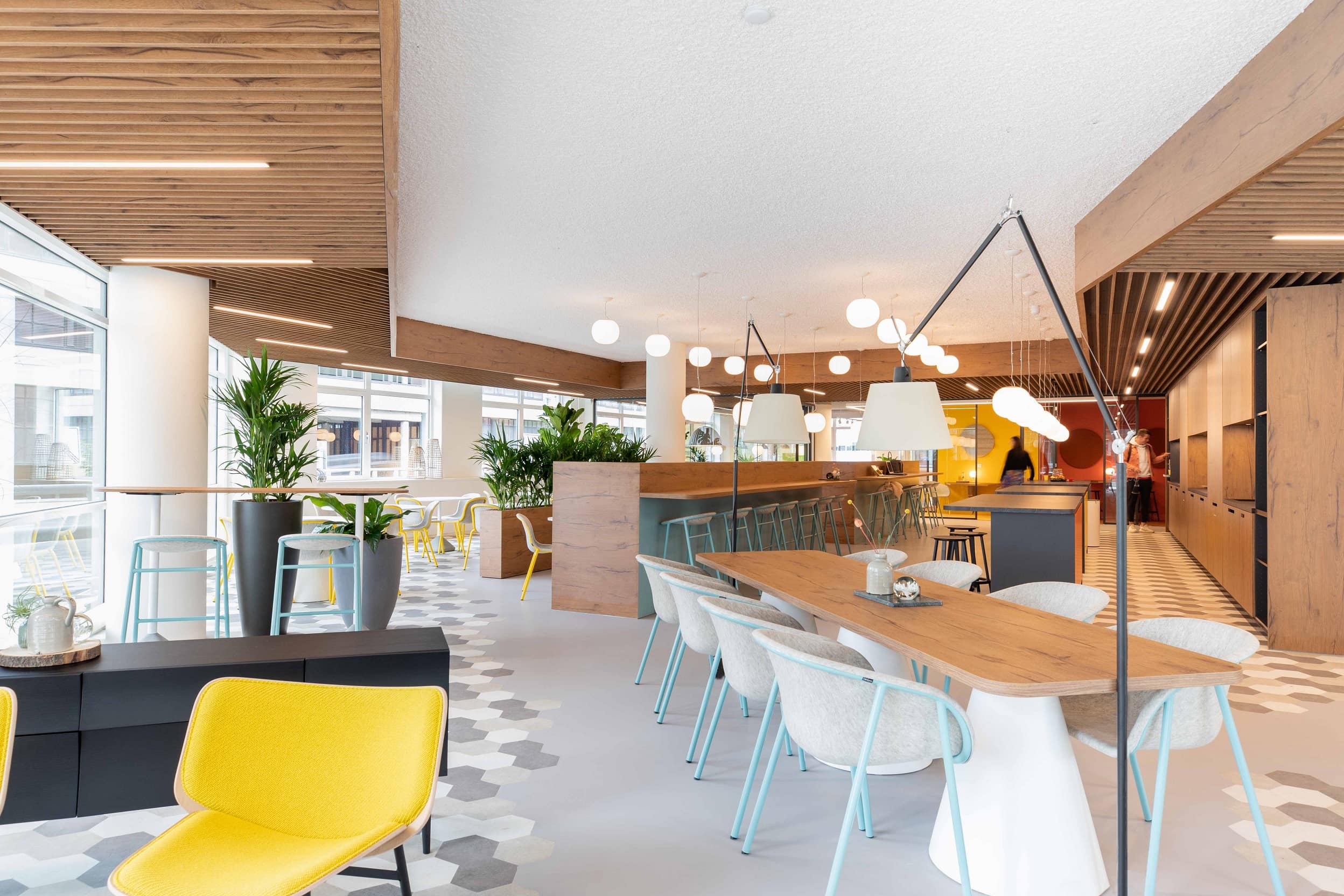 In contrast, custom furniture offers endless possibilities. Basically, it is up to you and your imagination to decide how will the final product look like. And, most importantly, you can achieve a 100% match with the brand identity of your client. How? There are several elements to consider.
Colours
When designing branded elements, the first thing that often comes to mind is colour choice. Indeed, matching the interior with the brand colours seems like an easy fix. And you can do it in so many ways. The brand colour can be a base or an accent; sometimes, designers go as far as creating a monochrome interior.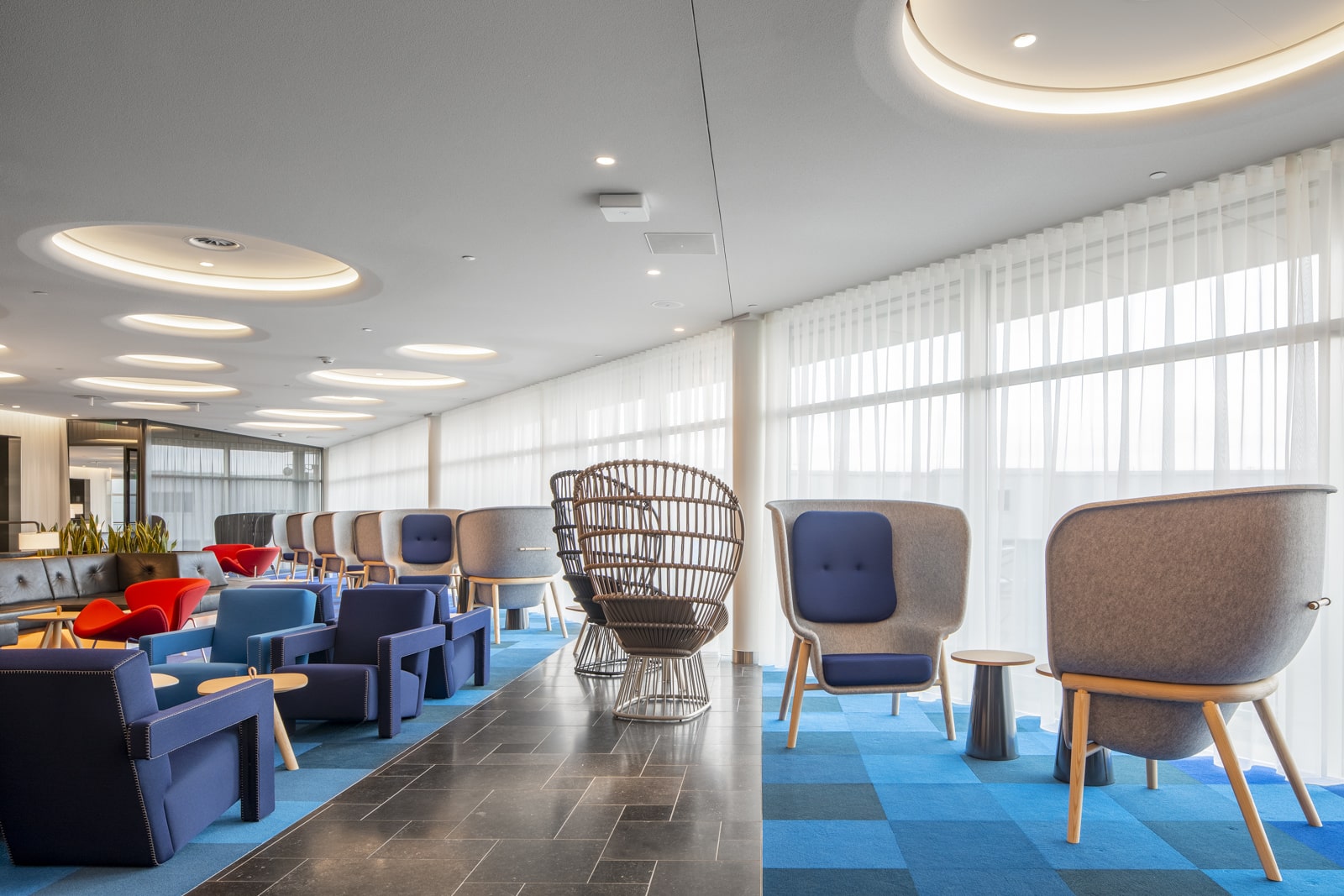 When designing the KLM Crown Lounge in Schiphol, concrete used various shades of blue on the floor and in furniture upholstery linking to the brand identity of the airline.
When people notice a brand colour in a certain environment, it evokes an immediate association with the company. This is a definite plus, but it also comes with a downside. Some people may interpret such branding technique as too obvious and even surface-level. When colour is the one and only element you use to create branded spaces, at some point, you will start repeating yourself. And that's not an impression you want to make on visitors.
Luckily, there are many ways to go around with colours. For instance, you can work with their meaning. Since every colour brings out a particular human response, you can think of an atmosphere you want to create and design a space accordingly. For instance, green relates to nature, calmness and sustainability. Yellow stands for happiness and energy. And the list goes on. Depending on the character of a brand, you can use certain colours to underline it. For instance, splashes of bright colours would work well for a young tech startup. But, in a luxury restaurant interior, the choice would be completely different.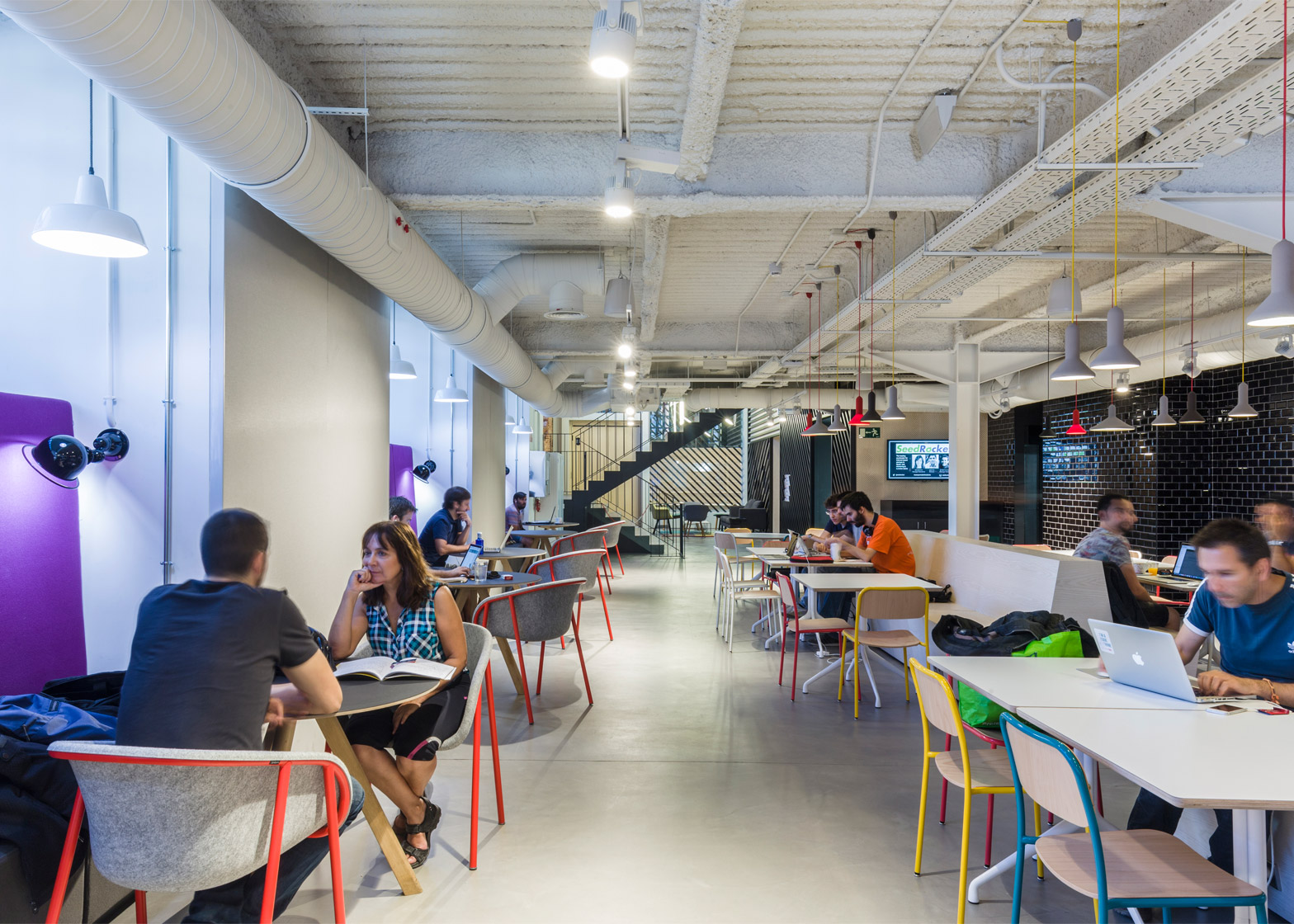 The interior of Google Campus in Madrid was inspired by the striking brand identity of the tech giant. The frames of LJ 1 chairs were customised in the colours of the logo. Staying in contrast with the neutral grey shell, the frames create an accent and link to the visual identity of Google.
Material language
Another benefit of custom furniture is that you can often choose the materials yourself. Since many brands have a strong material language, it might be a wise decision to implement it into the interior. If you design for a textile company, you would naturally want to use plenty of fabrics and tactile elements. If your client is a heavy industry giant, the material choice will be completely different.

Think of a certain look you want to create. It might be natural, industrial, futuristic - you name it. In furniture design, you can create this look with different materials, like wood, metal or glass.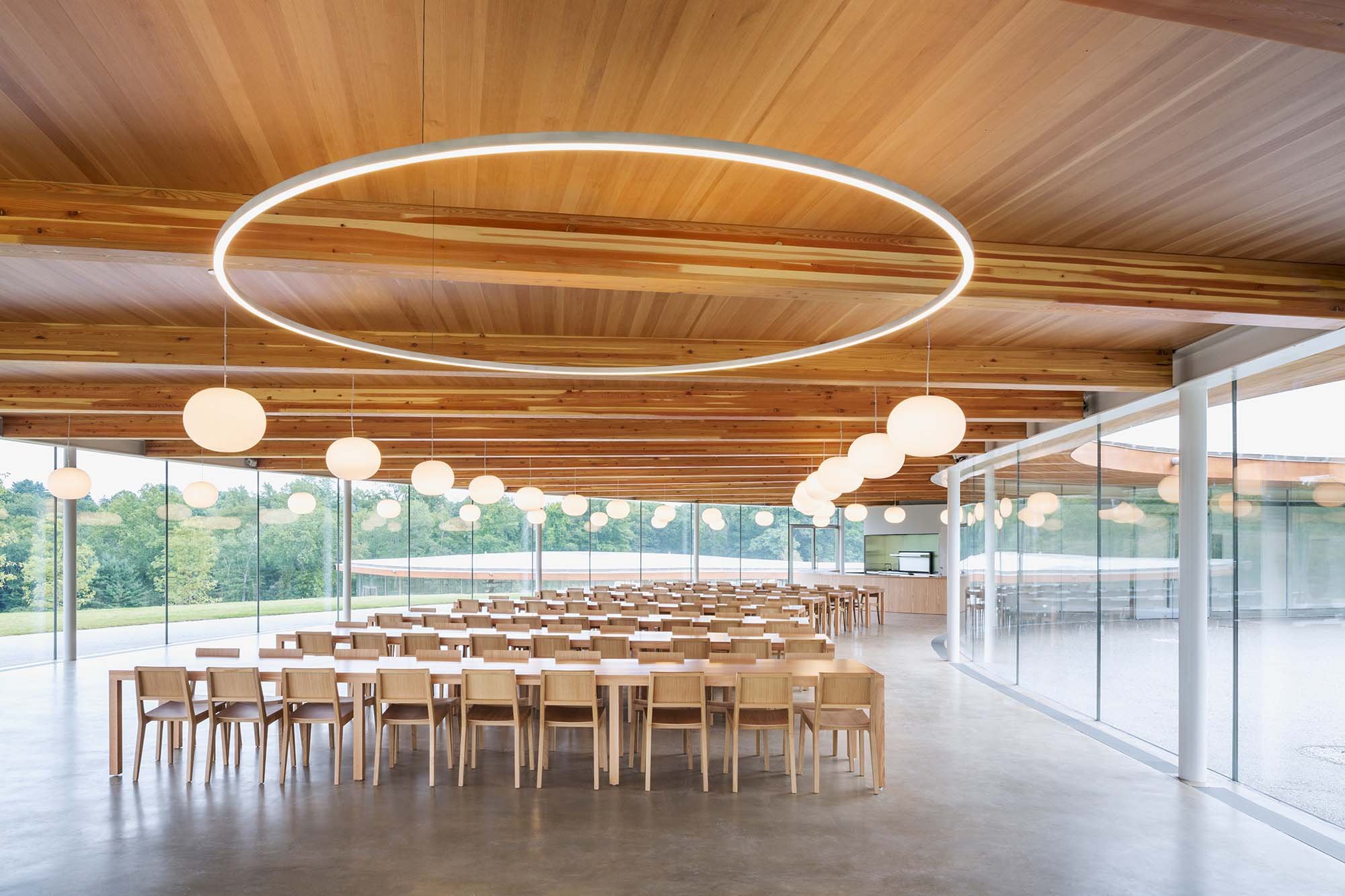 The building of the Grace Farms Foundation is nested into the surrounding natural landscape. The open structure with many glass walls allows visitors to connect with the environment. The architects created a custom design of Wood Me chairs in wood veneer to make a complete nature-inspired look.
Also, the material choice can tell a lot about the values of a brand. For instance, sustainable interior design is another way of saying that you care about the environment. And there are more and more brands doing it. Custom-made furniture from reused or recycled materials is gaining popularity for numerous reasons. Not only as a branding element but also as a talent attraction tool. As much as 40% of US millennials indicate that they have chosen a job because of the company's sustainability values. That's why green offices have all chances to become the norm in the nearest future - some would argue that they already are. And all these spaces require special furniture solutions.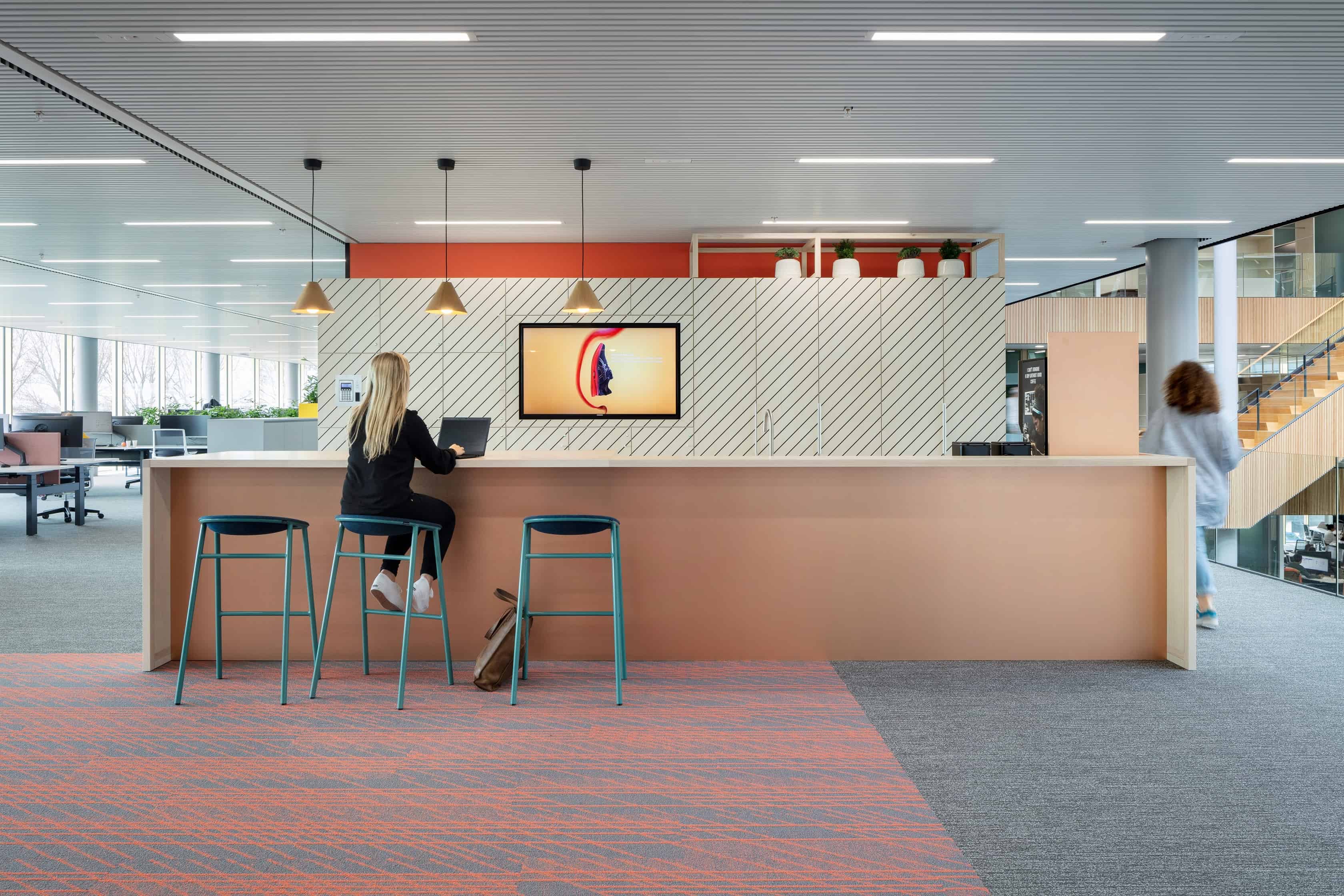 Custom furniture made simple
While custom-made interior products have numerous advantages, some people are still hesitant about using them. And it is understandable since, in commercial design, the word 'custom' had a different reputation in the past. For years, it was associated with a tedious ordering procedure, long lead time and high price. But the times are changing, and so do the furniture brands. With the rising demand for custom solutions, they have become more and more accessible.

Now, there are many tools allowing you to design furniture in no time. One of them is online configurator by De Vorm. It contains a wide range of commercial design products, each of which is fully customisable. In just a few clicks, you can create your perfect chair or table, download the 3D files and use them in your design.


What are the limitations? With all the available options in the custom furniture tool, there are hardly any. Every PET Felt product is present in eleven blends, while the steel and wooden parts can be finished in any RAL colour. Additionally, we offer a wide selection of Kvadrat fabrics for all upholstered elements. Put together, these result in thousands of combinations, where you will surely find a perfect match for your project as well.