Introducing Mute Family, Acoustic Panels for Every Space and Need
Determined to provide architects with a universal acoustic solution, we are happy to introduce Mute, an extended family of sound-dampening products.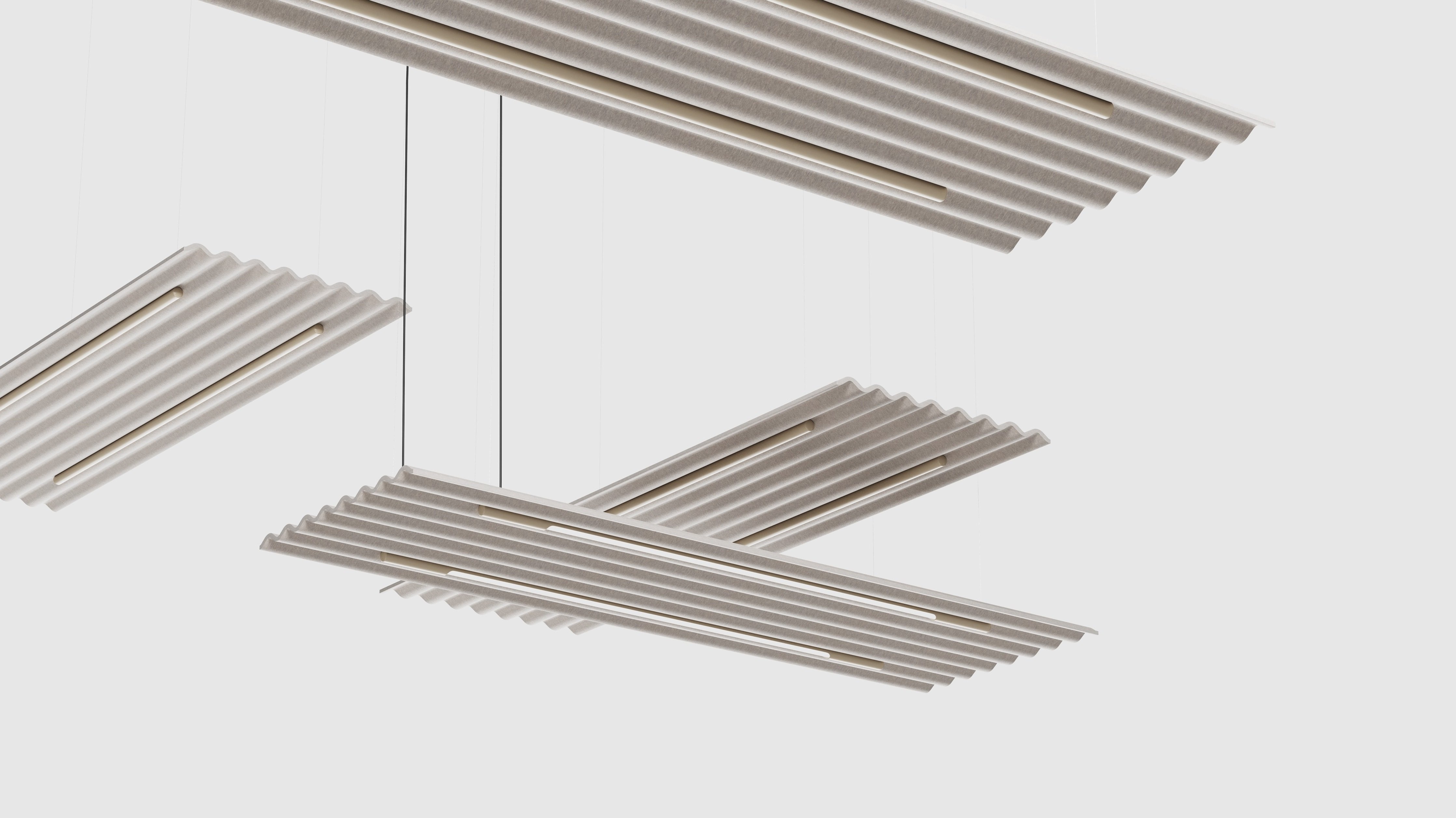 New in: Mute Flow Floating & Floating Light
Every acoustic problem has its own nature and needs different measures to solve it. With PET Felt wall panels already in our collection, we started thinking about the ways to use this material in other applications.
Same look, different function
For us, it was important to preserve the "family look" of the Mute series. That's why we took a distinctive pattern of Mute Flow and translated it into a ceiling-suspended format. As a result, two new products were born - Mute Flow Floating panel and Mute Flow Floating Light with illumination.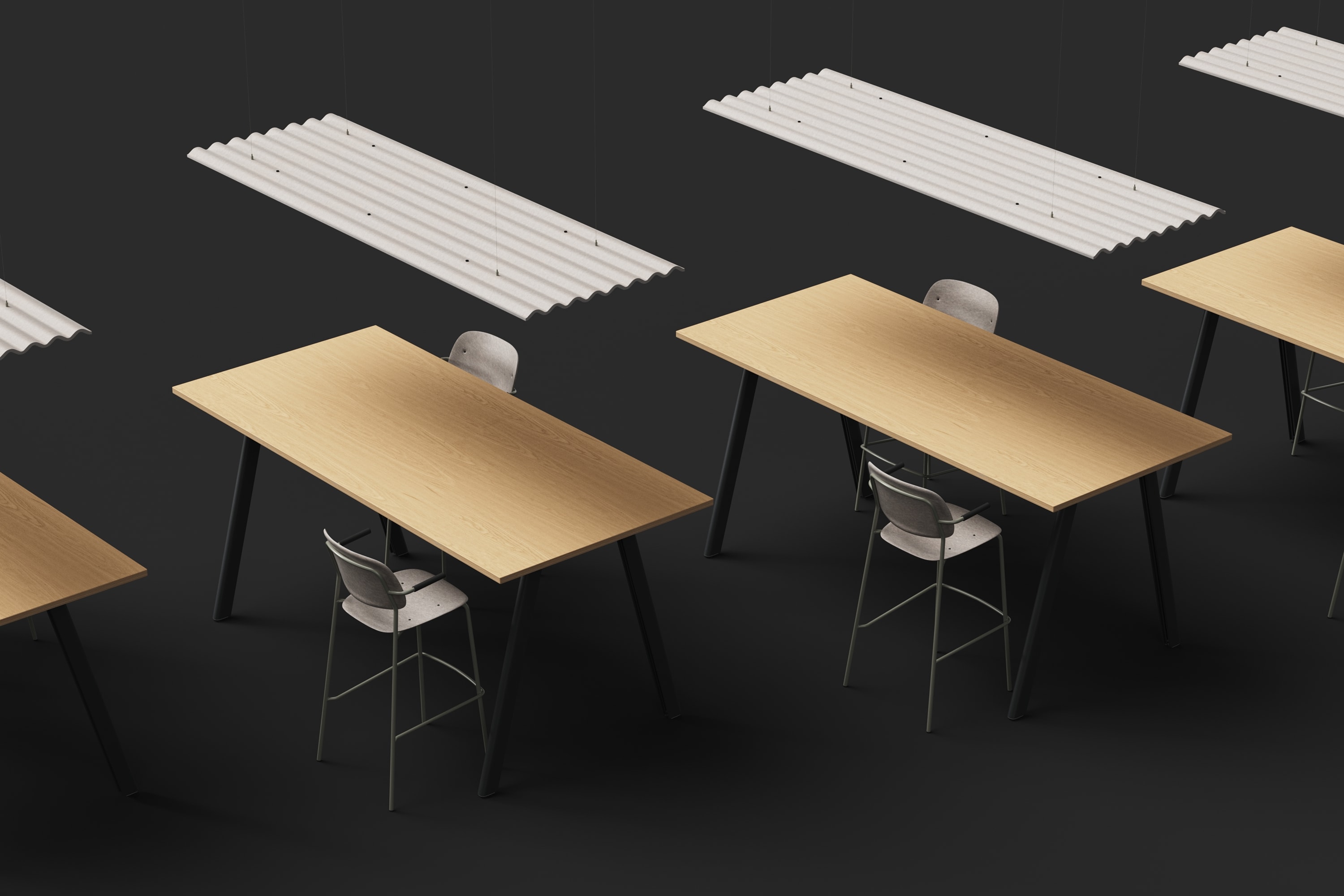 Why ceiling-suspended?
The main surfaces in every room are walls, ceiling and floor. They are usually hard and reflective, causing reverberation and unwanted noise. While walls are the first ones to receive acoustic treatment, the ceiling is often being overlooked. That's why we have designed the hanging panels, made to reduce the floor-to-ceiling slap echo. Playing with height and angles allows you to achieve the optimal acoustic performance, as well as to create an eye-catching installation.
Less noise and more light
As an alternative to a standard ceiling-suspended panel, we have also designed a product that combines two features - acoustic performance and lighting. Meet Mute Flow Floating Light - a multi-functional solution for offices, open-plan interiors and public spaces. Equipped with two LED tubes, this simple product allows you to go all out and create your own hanging installation. Play with angles, combine the panels and leave acoustics to Mute.

Mute Fit, always a good fit
Another new member of the Mute family is Mute Fit. The name speaks for itself - this acoustic panel was made to fit every size and surface. Inspired by a draped curtain, its asymmetric pattern has a hidden algorithm behind.

With Mute Fit, we intended to solve a common issue of 3D-shaped panels. When you're working with a curved panel, it can be hard to ensure a continuous pattern on every surface and in any room, whatever the size. The corners and edges often become problematic areas. The algorithm behind Mute Fit solves this issue. It combines several flat and curved sections. Such pattern ensures that any piece of the panel has flat edges, whatever the size. In this way, the pieces of any width can be seamlessly connected with each other. Not only does it make installation easier, but it also reduces the leftover material, making it a sustainable option.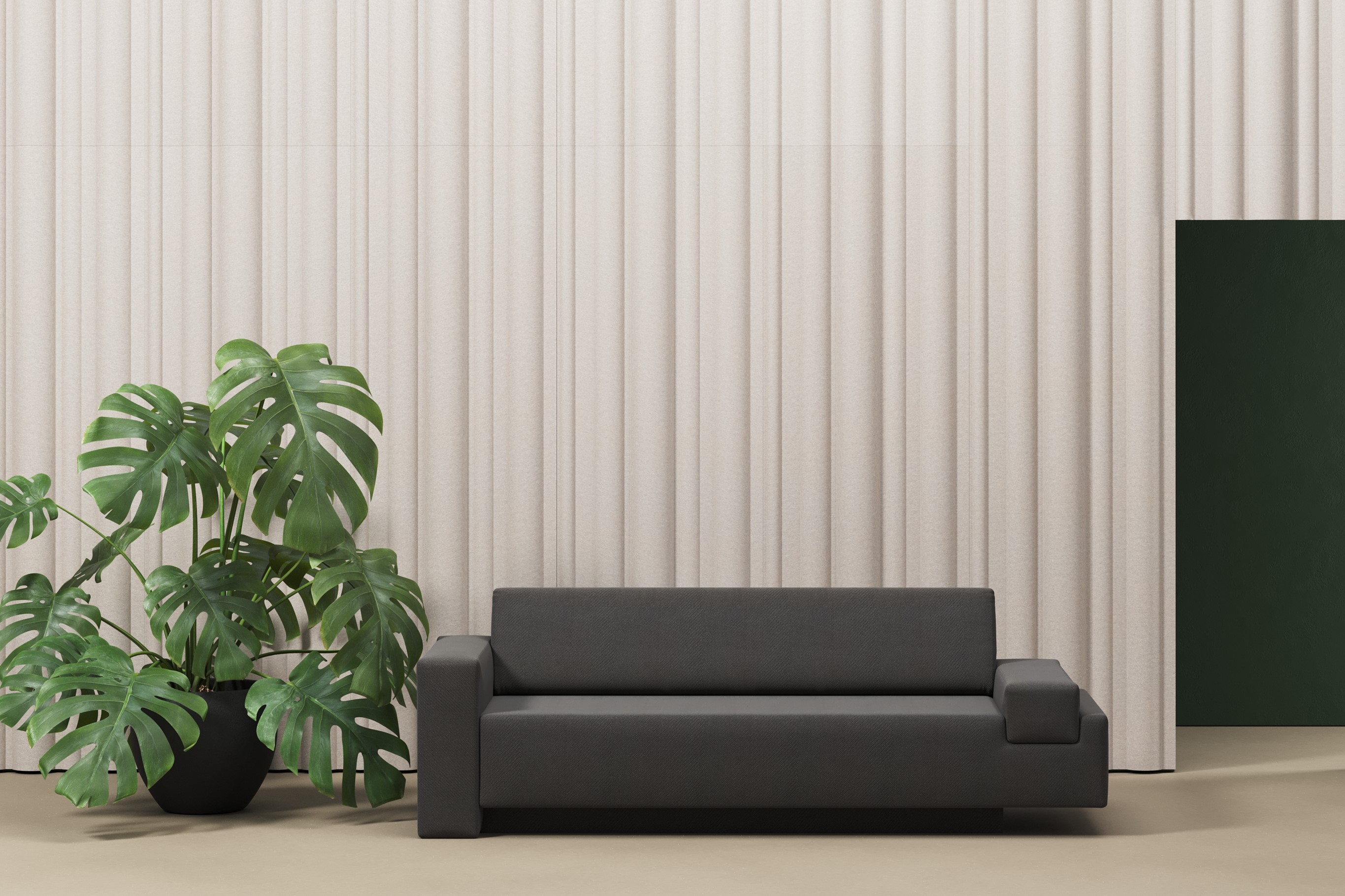 Improved acoustic performance
In addition to the aesthetic look and fit-for-all application, the pattern of Mute Fit has yet another purpose. Thanks to its 3D-curved pattern, the panel creates alternating distances from the wall. This is beneficial for absorbing sounds of different frequencies, compared to flat panels.
One family, so many design possibilities
With all existing and new options, Mute family can be rightfully called a universal acoustic solution. All products are available in our eleven PET Felt blends. Use them separately or in combination to combat the noise in offices, restaurants and other public spaces. Not sure where to begin? Our Guide would be a good starting point.