De Vorm for Office | Natural Daylight as a Part of Office Design
Everyone likes to have daylight in the office. Sufficient natural light is one of the basic human needs. Poorly lit and bleak rooms are of no benefit to anyone. Considering the development of office design, it's out of the question to create one that lacks natural light. We share the importance of daylight and give you some pointers on how to implement it in your office design.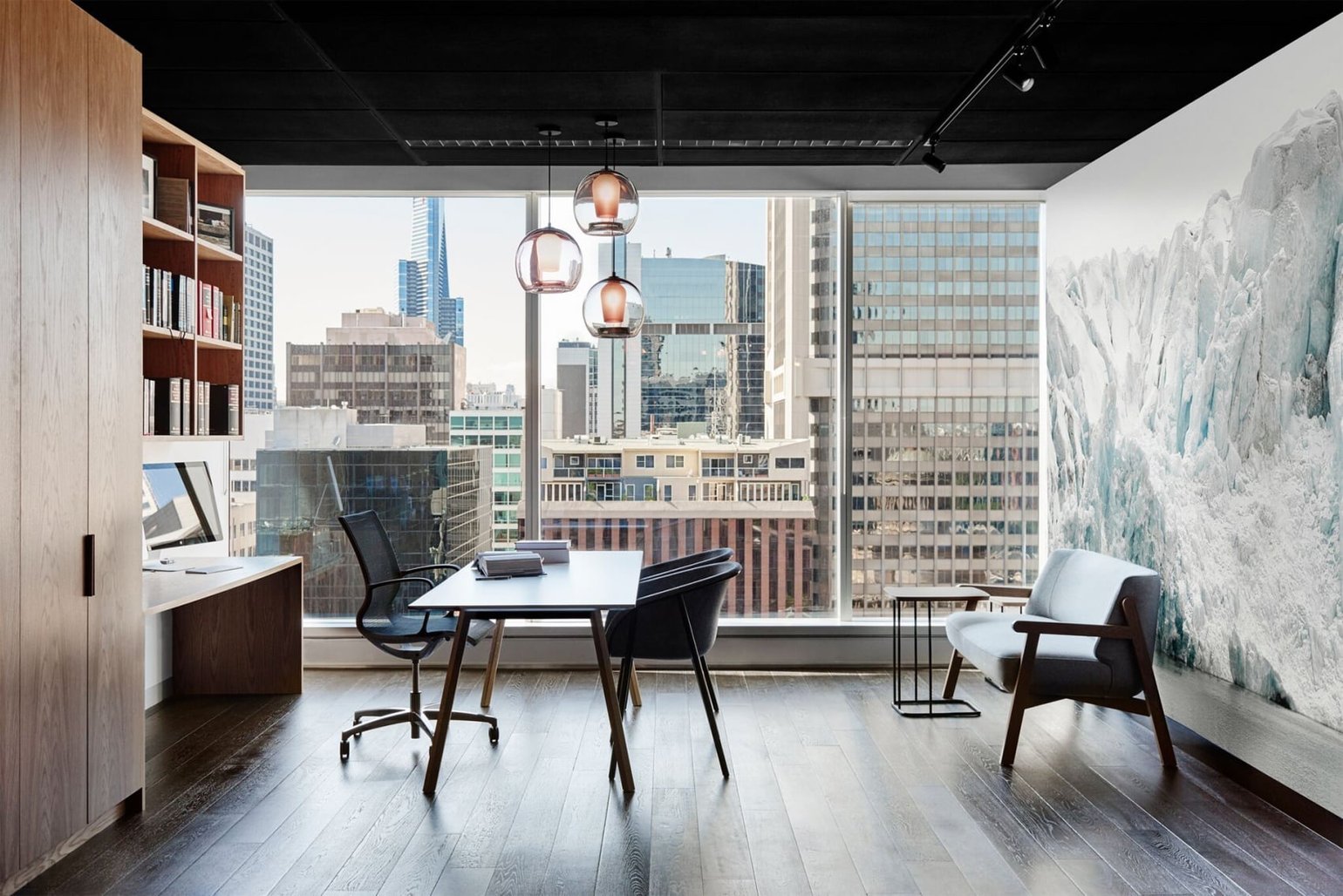 Lack of daylight in offices: where it comes from
Once upon a time, it was assumed that natural light in the office was superfluous. Can you even imagine that?

This assumption resulted in offices without windows and buildings that didn't get daylight. Windows would distract employees, cause high energy bills and headaches. Fortunately, this aspect has now been reconsidered. However, today we also distance ourselves from natural daylight by living in a digital era where we don't reunite with nature that much anymore. An interesting yet a complex puzzle for interior designers.

Natural daylight contributes to atmosphere, adds texture and liveliness. It's an important part of the design process and of people's overall wellbeing. If you need some inspiration, we have listed 3 great human-centric offices.
---
A crucial factor
Employees' overall wellbeing depends on many factors. A good office contributes to productivity, is inspirational and is healthy. One of the paramount factors affecting our health is natural daylight.

This was concluded in a recent survey by Harvard Business Review: access to light is one of the most important aspects for office workers. The lack of natural daylight and/or external views has a negative impact on the employees' experience. For example, almost half of the respondents indicated that they felt tired in the absence of natural daylight or a window in the office. 43% even said they felt gloomy.
Nearly 80% of employees say that access to natural light and outside view in the office improves their overall happiness and wellbeing
These complaints are reduced by sufficient daylight. As Dr Hedge found out, the optimisation of natural light in an office improves the overall wellbeing of employees. Health and productivity are therefore inextricably linked. Here are a few interesting findings — sufficient natural light causes:
• a decrease of 51% in tired eyes
• a 63% decrease in headaches
• reduction in the drowsiness of 56%
Employees working in natural daylight appear to sleep better due to the vitamin D increase. This provides more energy and eventually boosts productivity.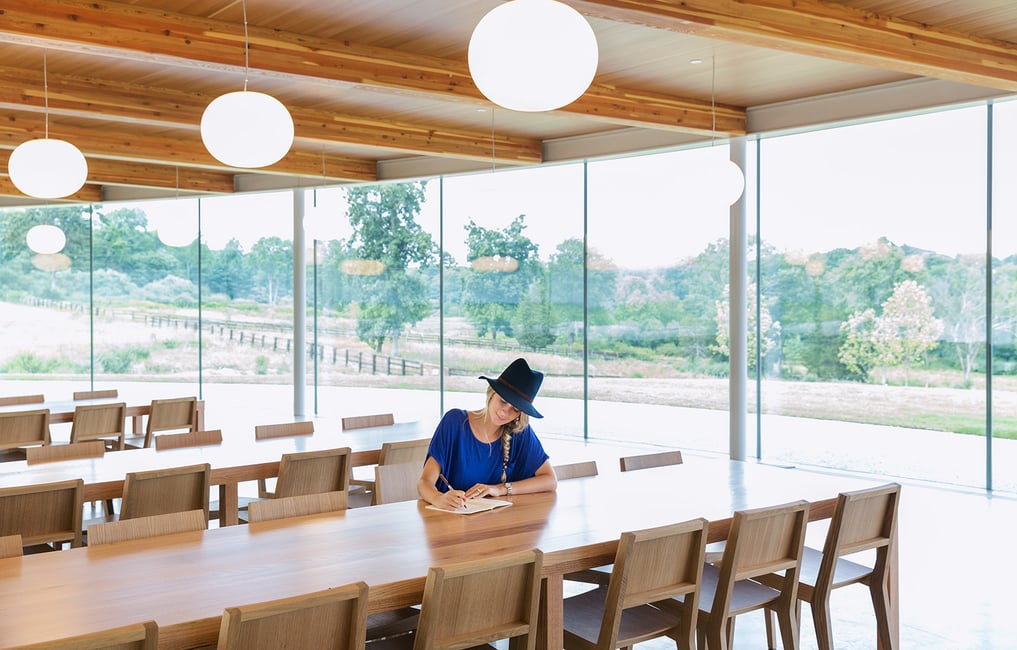 Given the fact that employees spend an average of 5 hours and 42 minutes behind their desk — and mostly indoors, — it's evident that light has a bottom-line impact on work performance, involvement and well-being. Time to put the employer and architect in the office worker's shoes.
Listen to the employees' wishes
Many companies conduct an employee survey to gather feedback on aspects like culture, learning and development. Enrich the development of the ideal workspace by investigating employees experience and the influence workspaces have on them.
Understand the employee's point of view
Take employees into account to understand their perspective. Is it the ideal workplace you imagine? What are the factors you like or miss about the workplace? It's important to be aware of the fact that the employees' experience is a reflection of the entire company.

As soon as architects and employers create an environment that is healthy for employees, it's clear that providing the optimum amount of natural daylight should be one of the most crucial considerations.
Let there be light: things you can do
Several factors play a role whether sufficient natural daylight can be created. After all, not all buildings are blessed with the largest windows, and budget often plays a role in this. Nevertheless, there are several adjustments that you can make or take into account during the office design process.
1. The first and easiest tip: if possible, position work stations close to windows. Ideally within 20 to 25 feet of the peripheral walls containing the windows. If it's further than that, daylight almost vanishes.
2. Are employees limited to light? Prioritize those tasks that require the most brainpower. Make sure that concentrated tasks, brainstorms and meetings take place in well-litted areas.
3. Use colour. Although it's quite subjective, the choice herein determines whether a space is comfortable to work in. A room with an extensive use of dark colours is percieved as less litted than a room with light and/or bright colours.
4. Reconsider the current lights and involve a professional in the field. Especially when the office has just a few windows or light sources. With the right LED solutions, daylight can be imitated quite well.
5. If possible, create a (roof) terrace, encouraging employees to have lunch outside or even to hold meetings there. This helps to decrease the prolonged technology use.
6. Think about the possibilities of redecorating the entire office space. Are there large objects (e.g. cubicles) that block light? And does the relatively less important space (e.g. printers) have lots of natural daylight? Maybe, it can be used differently.
7. Facilitate space-specific lighting by creating the balance between task and ambient lighting.
8. Include reflective materials in the design process to spread light. Think for example of mirrors and chromatic finishes.
9. A bonus tip that however doesn't have to do with office design but is important: promote outdoor sports and walks during breaks as this has a major impact on the employees' overall wellbeing.

Keep it balanced
Although the health benefits of natural daylight in the office space are almost undeniable, it's important to take the moderation of natural daylight into account. Excessive sunlight can have negative consequences too.

Direct sunlight can cause glares on screens or other reflective surfaces, deteriorated sight, or overheating the office. Especially during the summer months it's important to be thoughtful with light and air circulation, especially for those sitting close to the windows.
Bringing it all together
Considering natural daylight in the office design is a part of the bigger picture. Examine the office space critically and make a plan of actions to ensure the right level of daylight. Contribute to a healthy working environment for employees where they feel comfortable to dedicate themselves fully to their work on a daily basis.