Bringing the Noise Down in Restaurants, A How-To Guide
The elephant in the room — heard in all restaurants, bars and coffee shops — is loud noise. A growing problem that hardly gets addressed. If you are as loud as an elephant, you probably can get yourself heard. But for people it is getting harder. It is so bad that noise is the number-one complaint amongst restaurant-goers, according to the 2018 Zagat Survey. So here is some advice to get noise down and customer happiness up. In this article we're talking about acoustics when designing a restaurant, retrofitting a restaurant with bad acoustics and why noise is a problem, a health hazard even.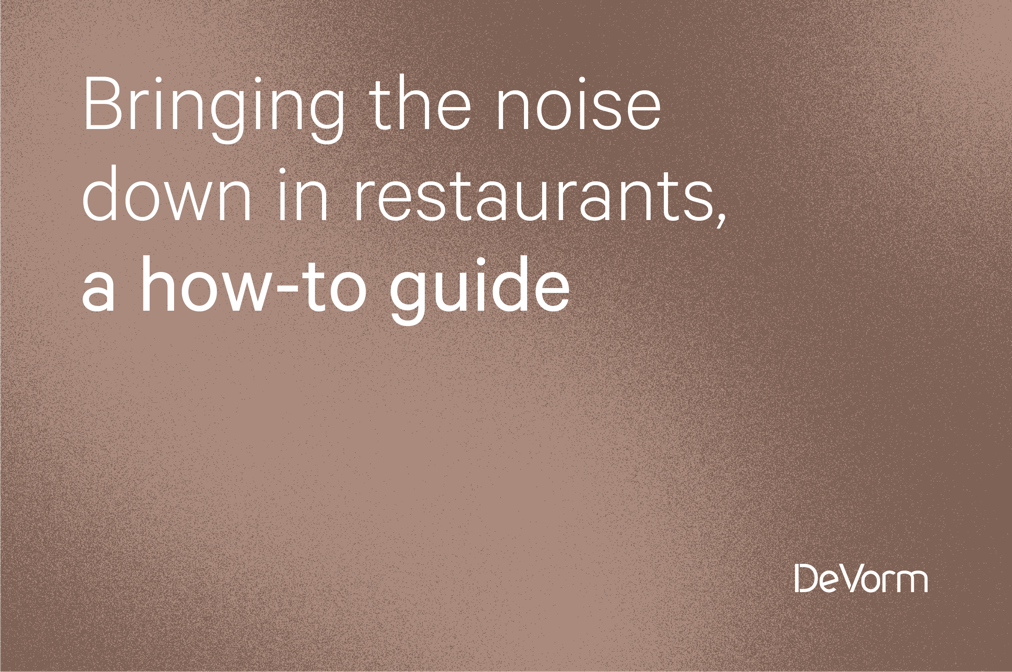 Acoustics when designing a restaurant

Architectural acoustics is a complex science but the basis to it is relatively simple. Understanding the fundamentals ensures an effective and efficient design.

Modern restaurants are primarily designed with looks in mind and not comfort. Whilst bare wood, concrete floors, open ceilings and big curtainless windows look great, they sound terrible. Sound bounces off these reflective surfaces and echoes through the room, creating a cacophony of noise.

The quickest win is floors and ceilings. These large, open surfaces have a massive effect on how a place sounds. The easiest win: soften the ceiling surface with for instance PET Felt acoustic panels, a versatile material that does the trick. They come in all shapes and colours, so they fit in easily. Or choose for a baffled ceiling or apply it to the walls.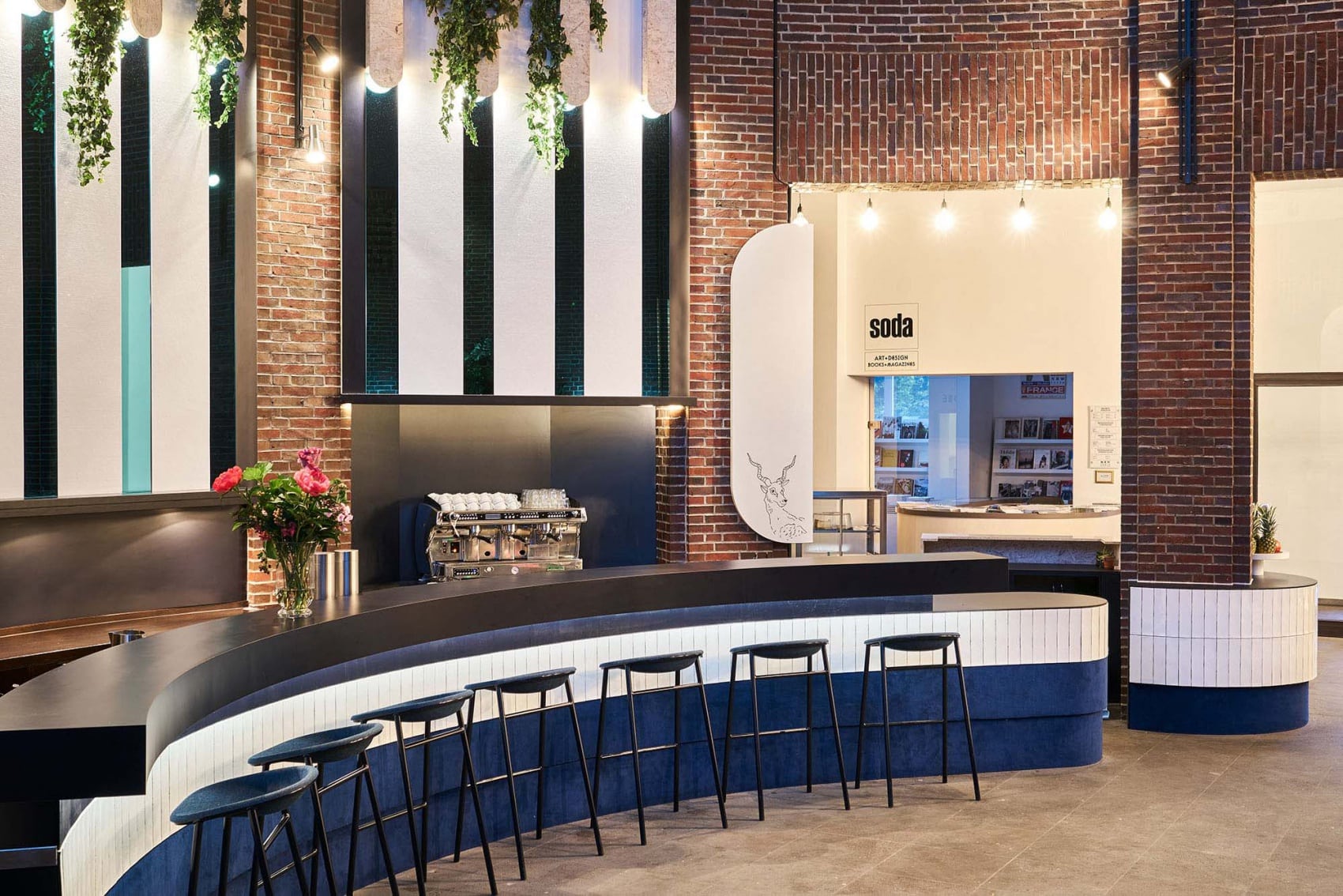 PONG Popcultur & Gastro, interior design by Studio Komo
Other things that help keep noise under control:
• Place loud equipment like smoothie blenders, espresso machines and ice makers in the back or away from diners.

• Open kitchens are the trend but also a source of constant noise. Pots, metal ware, pans and, depending on the chef, some shouting. With special acoustic glass you can keep the open-kitchen look but keep the noise down.

• This might seem odd when talking about restaurant acoustics but invest in a good sound system. You want music to be heard but not too loud. With a good sound system, diners will enjoy a crisp sound without having to turn the volume up.
Retrofitting acoustics in a restaurant
Problems are bound to happen if the architect decided that acoustics don't matter or it doesn't fit the budget. It starts with the restaurant getting bad reviews and then customers leave early because of the deafening din. Fortunately, there are some easy solutions to dampen the noise. We have also listed 8 products that instantly improve restaurant acoustics.

• PET Felt acoustic panels are restaurant-friendly sound absorbers. You can fix them to the wall or ceiling or choose a mobile panel that can be moved around.

• Furniture also helps to break the soundwaves. Big privacy couches soak up sounds, divide open spaces and create a sense of privacy. Bigger PET Felt privacy chairs also bring the noise down.

• Focus on your high-traffic areas. Even if you have an industrial look throughout your restaurant, consider installing carpet in some of the highest-traffic (and therefore loudest) areas of the establishment. The dining room isn't a high-traffic area, since people are seated. The bar area, the area in front of the kitchen, restrooms and other walking paths generate a lot of noise. With carpeting, you can dampen some of that noise.

• Large, hard reflective surfaces like ceilings and walls generate echoes. Softening them up with acoustic panels or a baffled ceiling definitely brings the noise down.
Popular acoustic solutions that don't help

In general, if you want to do something about acoustics, the golden rule is: go big or go home. There is no single magic trick that resolves the cacophony in your restaurant. It is a combination of acoustic measures that will quiet the place down.

Here are some things that really don't work, but are regularly seen in the hospitality industry:
• Stuffing tables with foam or placing foam underneath the table doesn't do much. The foam needs to be exposed to the sound to have a positive effect. Crumbling foam in particles landing onto the diners lap is not exactly appealing either.

• Adding small plants also doesn't help much. Plants can have a positive effect on acoustics but you need big ones or a lot of them, for instance, on a green wall. These are beautiful solutions but also expensive and requiring maintenance.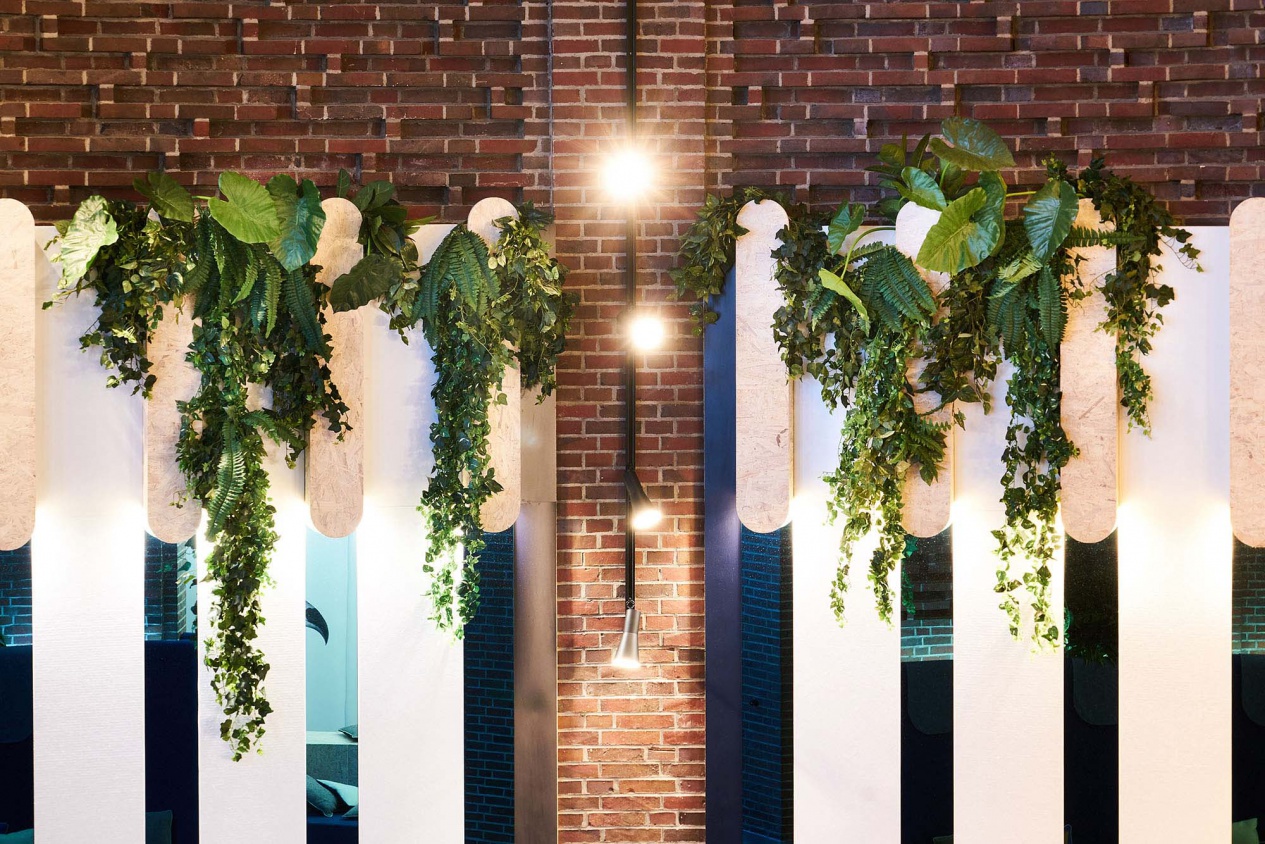 PONG Popcultur & Gastro, interior design by Studio Komo
Why is noise a problem?

The ideal sound level for normal conversation is between 55 and 65 dB. If you factor in the average restaurant noise, your restaurant moves to about 70 dB. At this point, your customers have to raise their voices to be heard. At 75 dB, conversation is difficult and at 85 dB the noise level becomes damaging. To see how your restaurant scores, check the reviews on Open Table. Their reviewers also give feedback on the noise levels. Or download Soundprint, the Yelp of sound.

Physically, there is no difference between sound and noise. Sound is a sensory perception and noise corresponds to undesired sound. So, controlling noise levels is not a luxury, it is an essential part of the restaurant experience. Going out is about enjoying the company of others. It is about having a lively conversation, without raising your voice.

Noise is not only a problem for customers, but it also affects your employees. Many experts see excess noise as an ergonomics-related program. It can damage hearing, spike blood pressure, and decrease productivity all while increasing stress and fatigue.

Your employees are at particular risk for noise-related problems because they are continuously exposed to it. If the noise levels are at 85 dB or more and your employees are subject to that noise for eight hours, they can develop hearing-related issues.These levels of noise are an occupational health hazard.

Perhaps it's time to face the elephant in the room. To realise the effect that noise has on everyone personally and the influence this has on running a successful restaurant. Investigating and investing in restaurant acoustics makes for happy customers and staff. Short term and long term. With these products, you can start making a change right away.