De Vorm for Office | Flexible Workplace Design: the Open Office, Cubicle and Beyond
Traditional cubicles are no longer popular and open offices are receiving some serious backlash. Whilst cubicles are great for concentration they inhibit collaboration. Whereas the noise and distractions of open offices tend to create the opposite effect. The sweet spot in office design is right in the middle: flexible workplace design.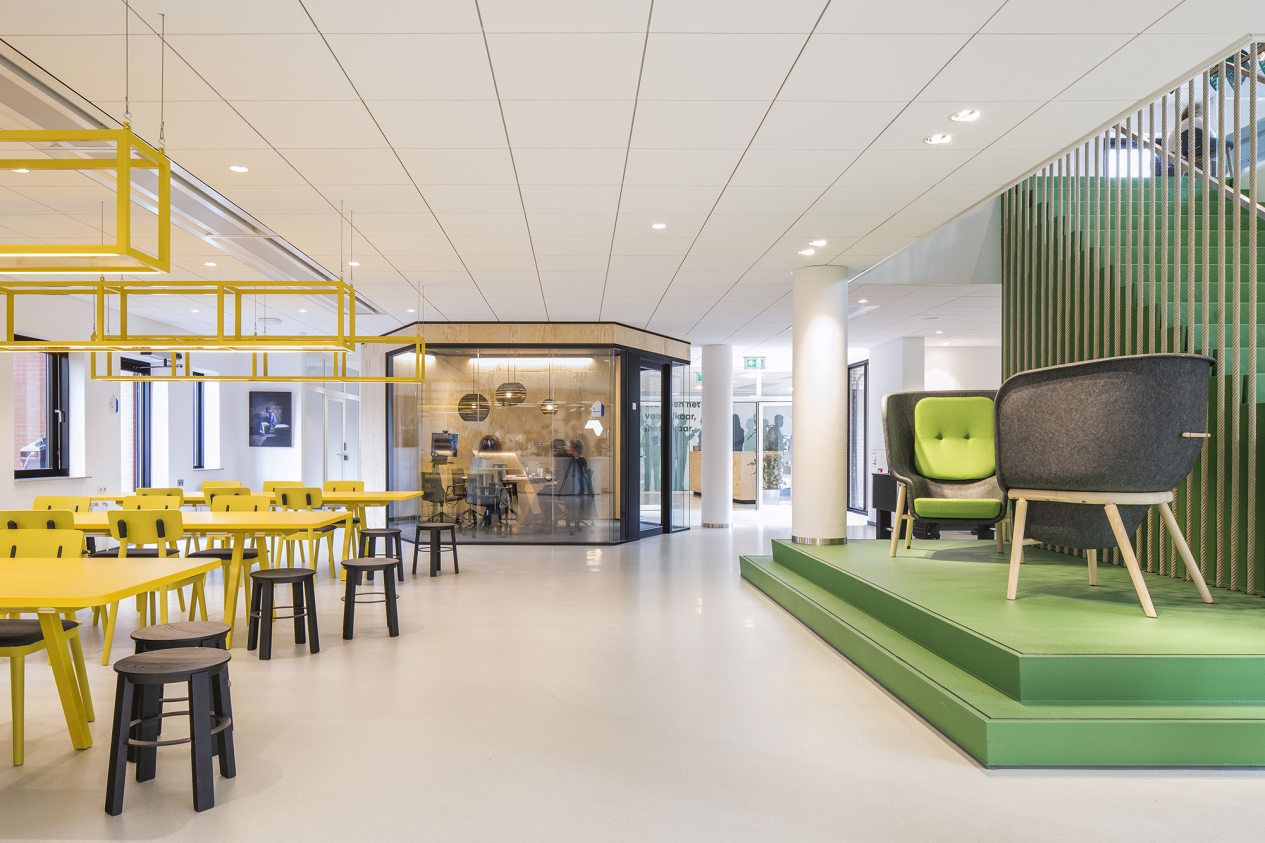 What is flexible workplace design?
Flexible workplace or flexibe office design is the latest trend in architecture. While everybody loves the look of the open office, after a couple of months of working in an open space, that love quickly fades. So, architects are reconsidering these designs and are incorporating the advantages in flexible office designs.

A flexible office space offers diverse work environments that can be altered and reconfigured as needed. In an ever-changing world, your office design should be flexible to changes in your services or the kind of people you are hiring.



For instance, 88% of millennials find that they have their best ideas when they're working in flexible space options. Nearly 9 in 10 millennials think that design flexibility is important in their work environment. Further, respondents cited comfort, aesthetically vibrant work environments and overall adaptability in the workplace as crucial features in an ideal workspace. Specifically, moveable furniture was seen as a key characteristic of the ideal office environment. In other words, having increased control over the space itself is becoming more important than ever in offices.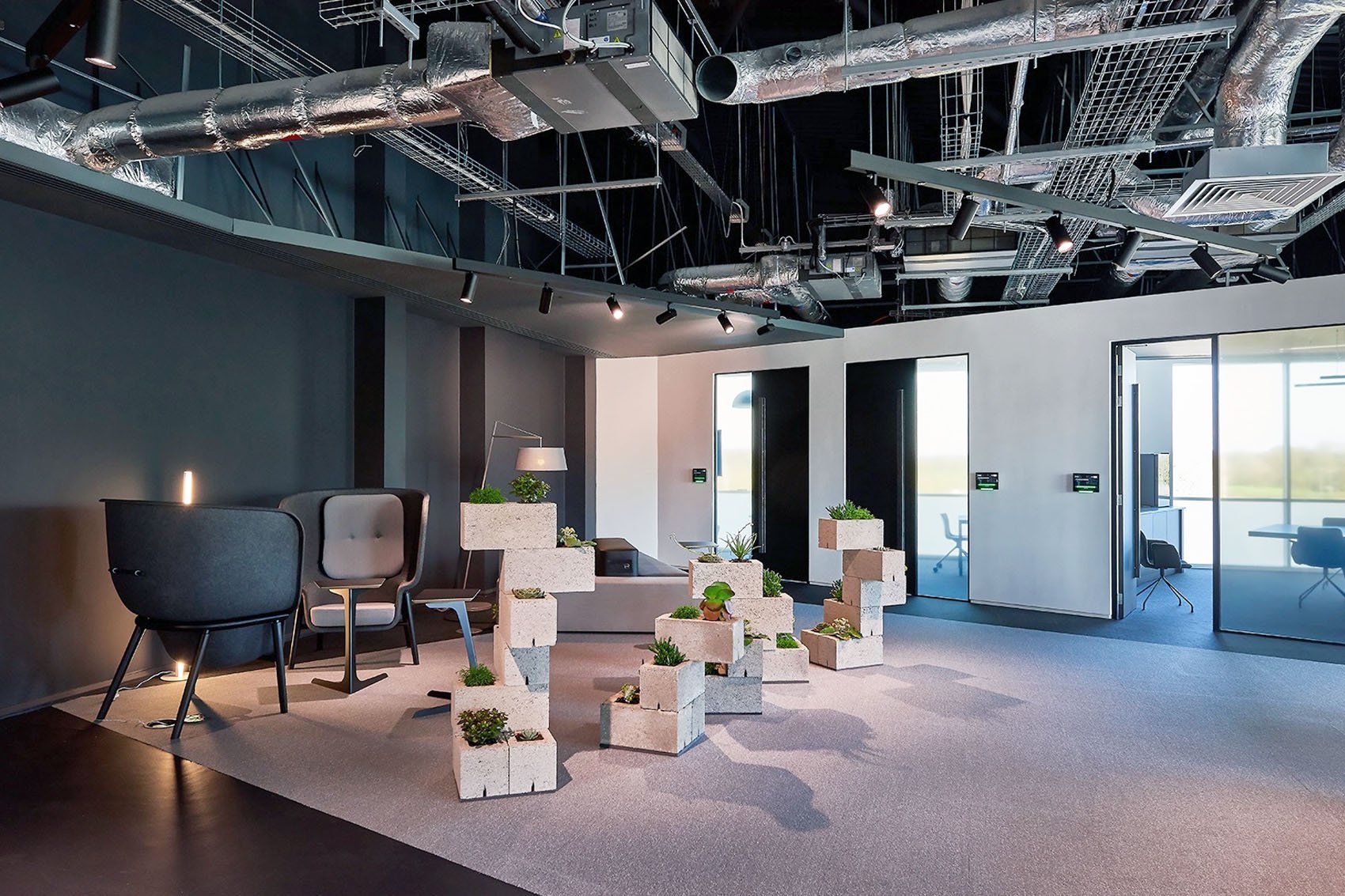 Gymshark is one of the fastest growing companies of all time, selling its unique sports apparel to over 150 countries worldwide. They wanted a building that would accommodate their rapid growth and also be an attraction for new employees and business. Oktra's design team collaborated with Gymshark and began a mission to open one of the best offices in the world.
---
Getting started with flexible office design
Woah stop! Before you add wheels to all your office furniture think about the spaces you actually need. First, let's think about what spaces you definitely need.

Depending on your company you might want an open space that is filled with work stations, lounges and silent workrooms. Take a people-first approach when designing the office. The work stations should have sit-stand desks, ergonomically adjustable chairs and portable barriers. Don't put people in long lanes to work alongside each other, but make two-, three-, or four-person workstations. More important is the infrastructure that allows them to connect wherever they are.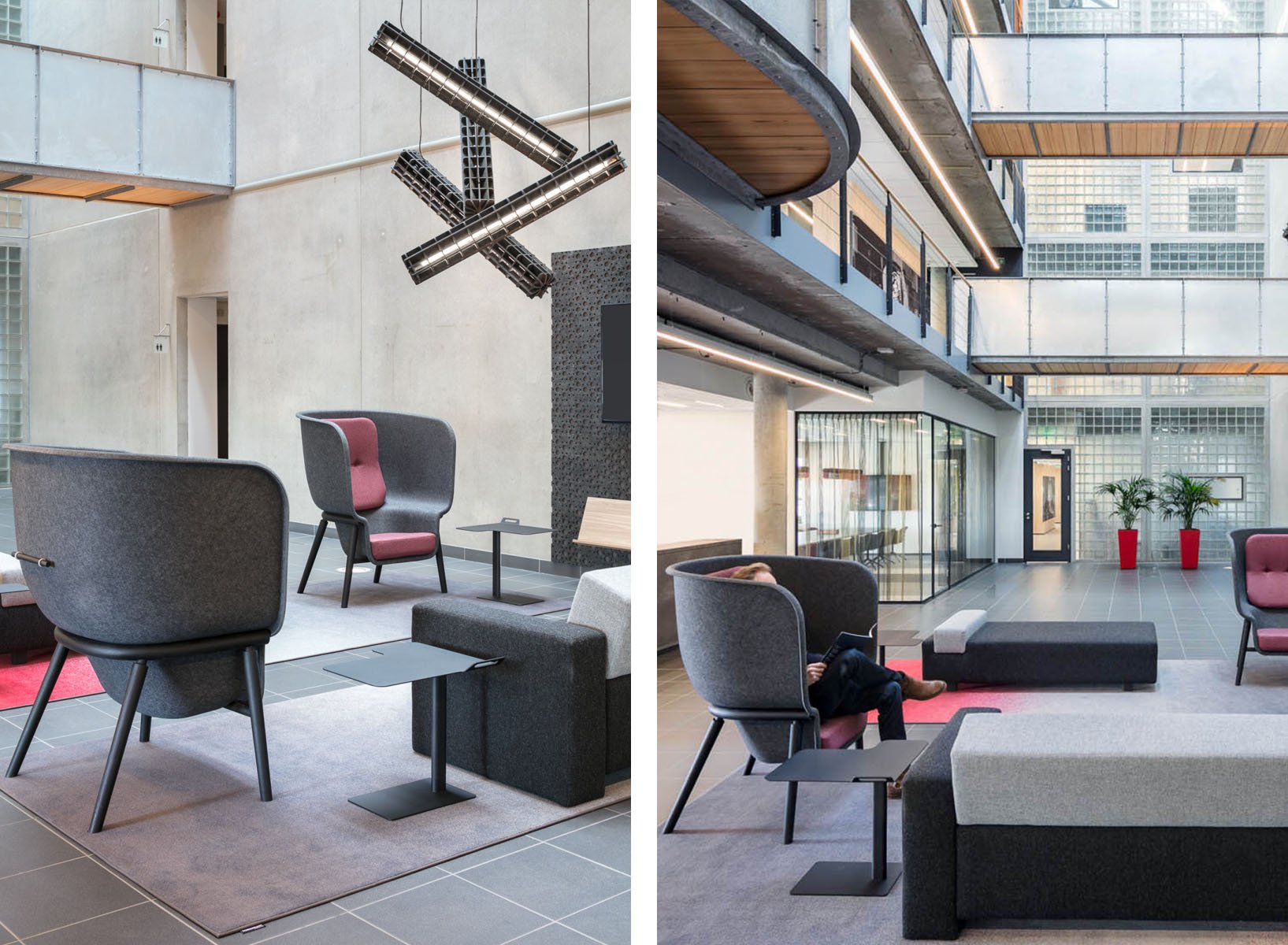 Keep this in mind when designing an open office:
• Movable walls or screens
• Ample power outlets and other connectivity infrastructure to the network
• Adjustable and mobile furniture
• Unassigned workstations
• Movable storage units or cloud-based storage for all but the essential storage of paperwork
• Adjustable lighting and ventilation control
---
Creating a third place in the office
Flexible office designs provide more than just free-for-all workstations and silent rooms. They should also offer what sociologist Ray Oldenburg defines as a "third place". Your home and the people you live with make up the "first place". The "second place" is the place you work, and often where people spend most of their time. Third places are essentially public spaces that help people get through the day or allow them to gather. Coffee shops are great examples of third places, but you don't want your staff to be working in coffee shops all day. So, more and more companies are bringing the ambiance of the next-door coffee shop inside their workplace.
The eight characteristics of third places
A great coffee machine isn't enough to create a vibrant third place. The best ones have up to eight different aspects:
1. Neutral ground no obligation to be there, people are free to come and go as they please

2. Leverer someone's economic or social status does not matter in a third place, allowing for a sense of commonality among its occupants.

3. Conversation is the main activity playful and happy conversation is the main focus of activity in third places, although it is not required to be the only activity.

4. Accessibility and accommodation third places must be open and readily accessible to those who occupy them.

5. The regulars third places harbor a number of regulars that help give the space its tone, and help set the mood and characteristics of the area.

6. A low profile third places are characteristically wholesome. The inside of a third place is without extravagance or grandiosity and has a homely feel.

7. The mood is playful the tone of conversation in third places is never marked with tension or hostility.

8. A home away from home occupants of third places will often have the same feelings of warmth, possession, and belonging as they would in their own homes.
Earlier we used the example of a coffee shop, but it doesn't have to be big. With a couple of privacy couches or portable privacy pods, it is also easy to create a cosy work- or meeting spot. Because third places are neutral and non-defined, people can use them however they wish. This enables creativity to flourish, which in return leads to happier and more productive employees.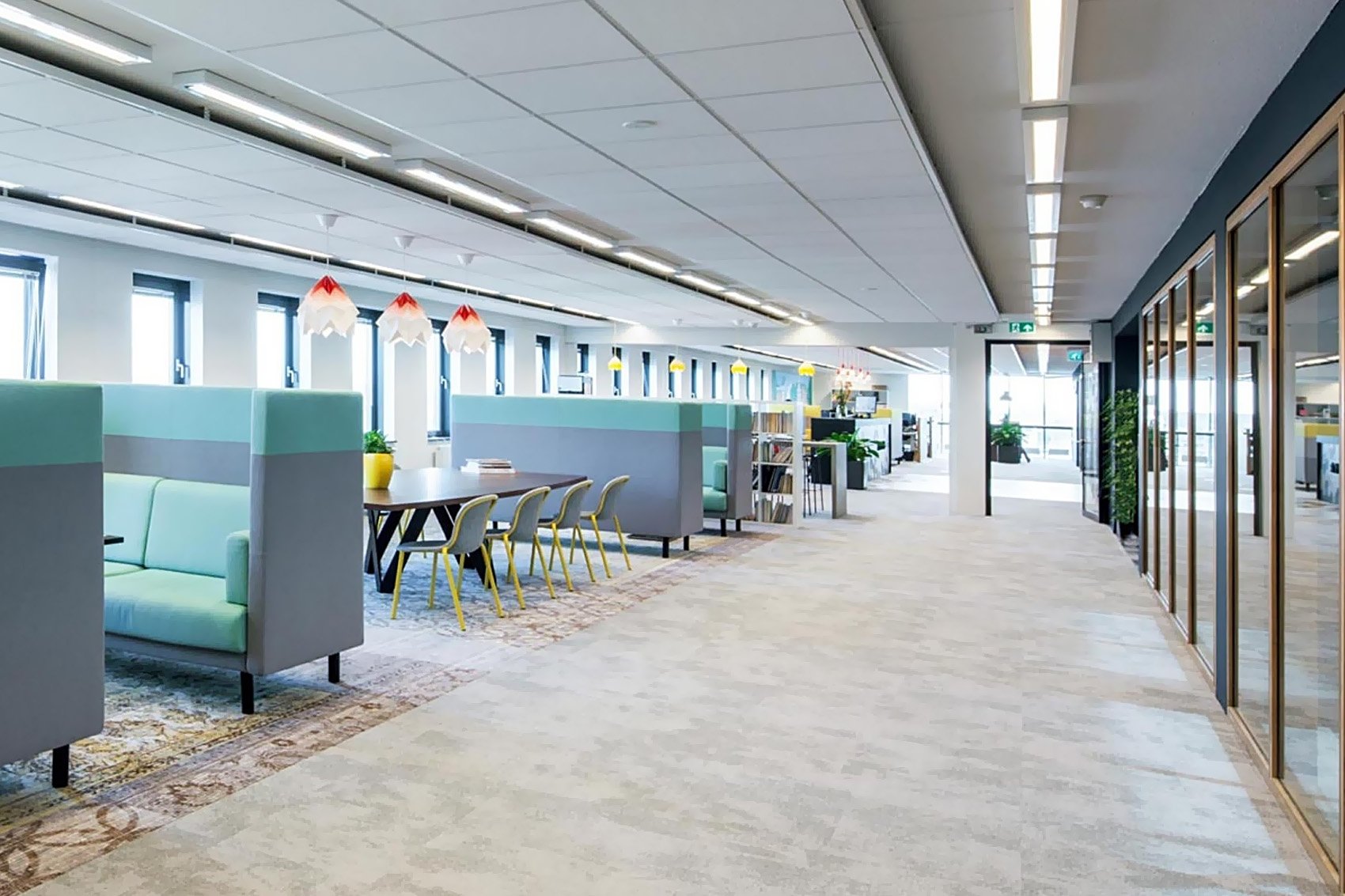 TOPdesk was founded over 20 years ago by two students from Delft University and it has now grown into a worldwide company with over 500 employees situated in 10 different countries. Light, interaction and leisure were keywords in the design that led to a vast constructional operation.
---
Dampening sound in the flexible office
Whether you like it or not, most people will not have an office for themselves like Don Draper or Harvey Specter. So, the noise from your co-workers will be an issue. From someone eating an apple or a colleague hammering on a keyboard with fake nails.

A noise-cancelling headphone is one option, but you will miss out on a lot of the good stuff. With sound-dampening or sound-absorbing materials, you can dampen a lot of the background noise. Because noise reverberation is the most distracting and tiring for people in open offices.

Solving acoustic problems can be easy. For instance, plants can help reduce background noise (and they've got other great features like fresh air). Bringing in a few green friends probably won't be enough. You will need some other acoustic solutions, like (big or small) wall panels or other flexible acoustic elements such as lamps, chairs or couches. PET Felt is a great acoustic material and is very versatile.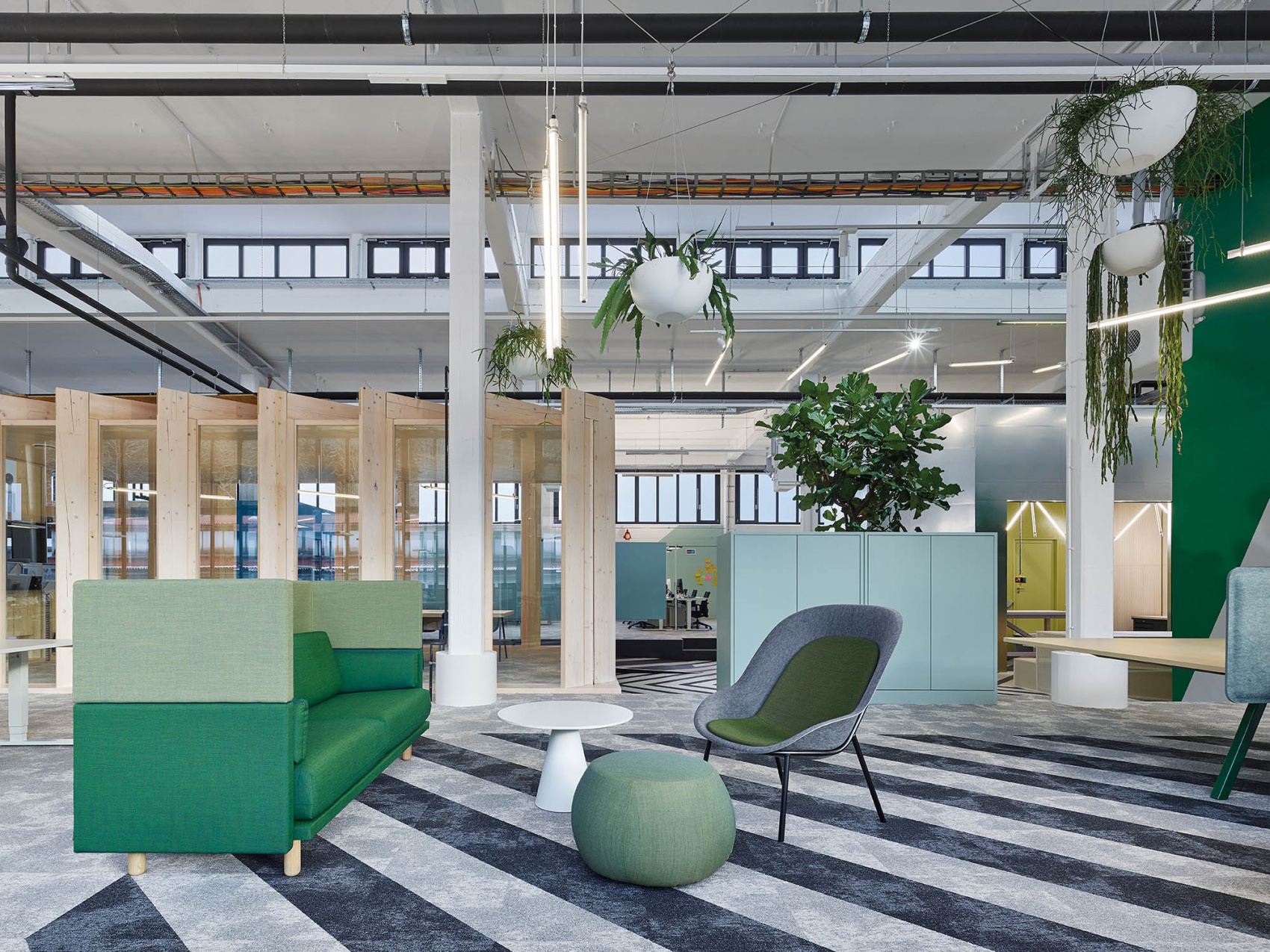 In efforts to attract the best and brightest in the automotive industry, Bosch Automotive Steering's new office have a striking design built for the work of the future.
---
Nine tips for flexible office design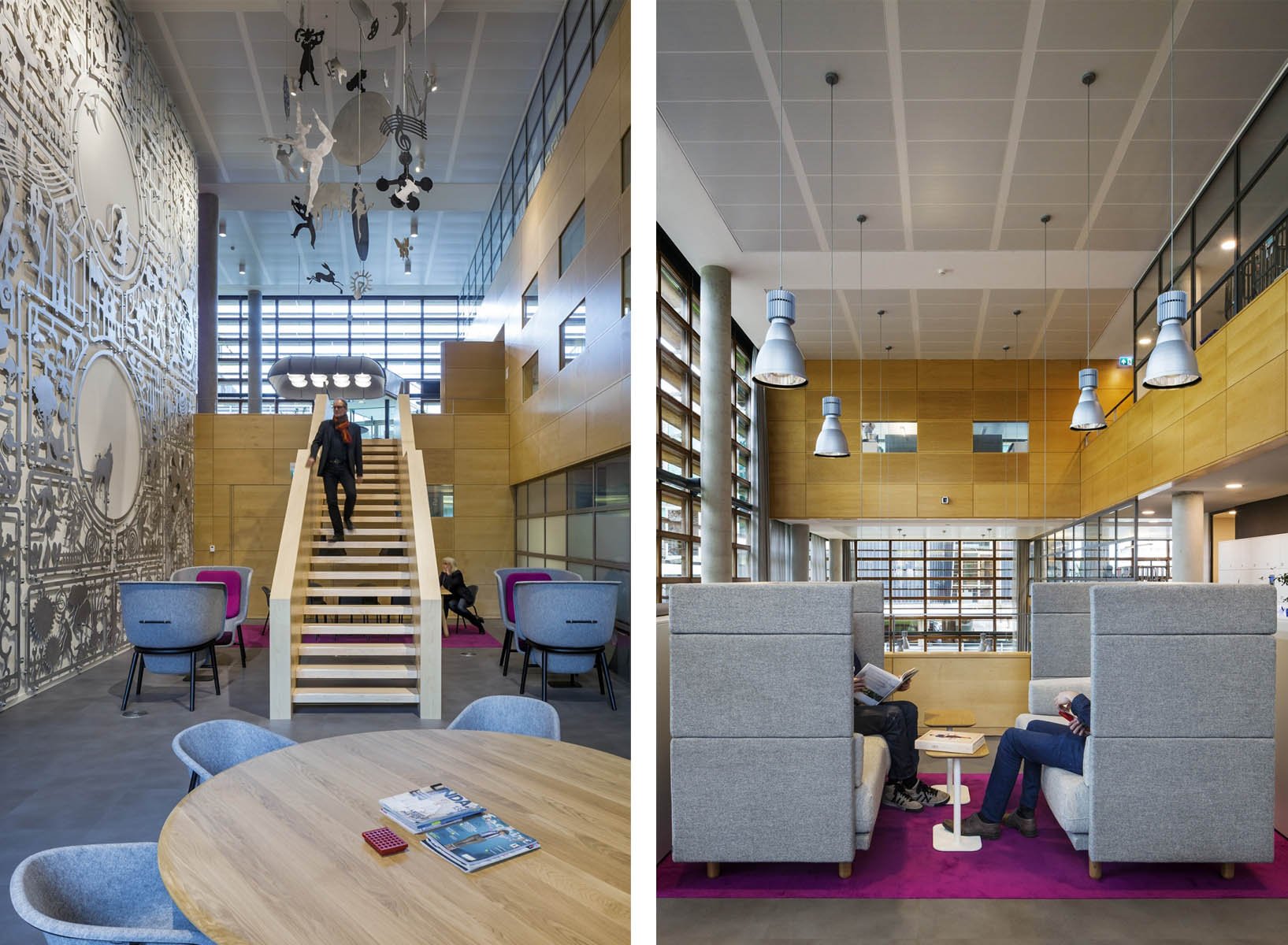 Keep these nine tips in mind when you are designing your next flexible office:
• Look for two-, three-, or four-person workstations instead of long tables filled with people and no personal space.
• Keep high traffic areas free from workspaces. So, no work near bathrooms, kitchens, stairs and conference rooms.
• Make room for a quiet place
• Set up call rooms.
• Use acoustic materials, such as PET Felt to absorb or dampen noise.
• Use adaptable furniture.
• Consider the office climate. Get ceiling fans, air-conditioning or individual fans.
• Give a variety of seating options.
• Flexible office design also means that workers can work from a coffee shop or at home.
---
Does the perfect workplace design exist?
That is a hard question to answer and it is also very personal. Everybody has different needs and they change from day to day. Monday moods differs from Friday moods. So, design different options for different days and types of people. Once you've created a work environment that everyone is happy with, productivity and efficiency and overall employee well-being will begin to increase. Would you like to share what your up to? We would love to meet you and hear about your projects!