CBRE's Martijn Prins on Incorporating Company Culture and Identity
We talked to CBRE's design chief about how offices can communicate your culture and mission to employees, potential employees and clients. The office as your best brand ambassador.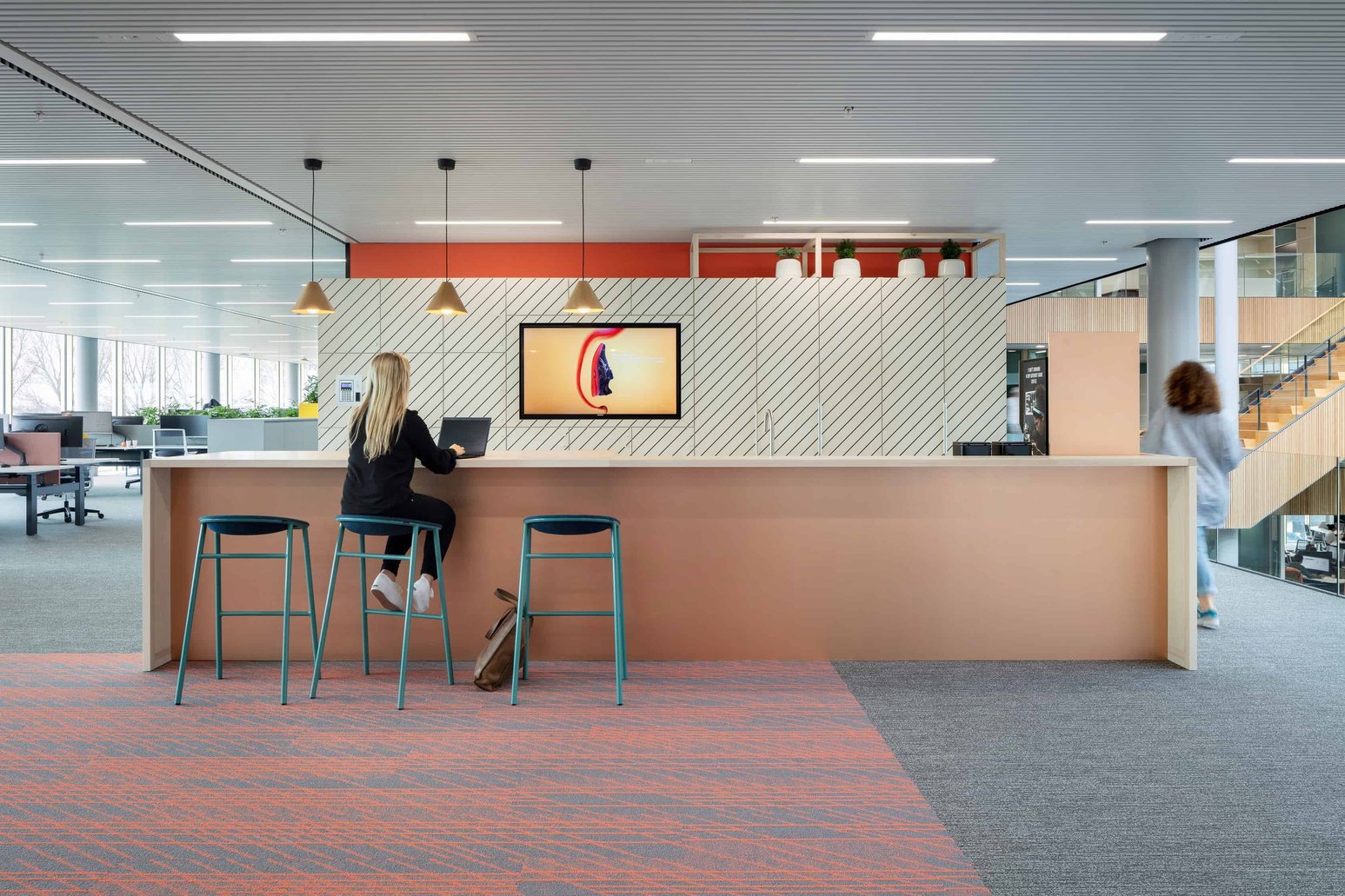 The office as your best brand ambassador
The office is not, despite what some were predicting, facing an existential threat. But it is having an identity crisis. What exactly is the office for now?

It is no longer a place of routine, of dutiful eight-hour shifts. As most workplaces - at least those dedicated to digitally enhanced knowledge work - move to hybrid working, flexibility and intention have replaced obligation.

The days of dull, ranked and permanently occupied desks or cubicles are done. The modern worker is mobile, outside and inside the office, bouncing from spot to spot, depending on the task at hand. Workers mostly come into the office to meet, one-on-one or in teams, to collaborate or receive training, or to find a quiet spot for flow-state deep work. They are there only when it's the best place to be. They are working out how best to navigate this new geography, switching between remote and in-person engagement, and developing new routines, the working day more fragmented but a better fit for personal and professional to-do lists. They are learning to work asynchronously, to schedule and re-schedule.

That may sound like the beginnings of a slow death for the office, the first stop on the road to irrelevance or a radical downsizing of space and function. But the move to a more mutable workday and hybrid working amplifies the importance of the office in other ways. The physical office is where company culture is actually lived, expressed and felt. It can and should be the ultimate brand ambassador. The best workplaces can sell and tell a story about a company and brand's vision and essential proposition, internally and externally, to employees, potential employees and clients.

Martijn Prins is Head of Studio and Associate Director at commercial real estate giant CBRE. Prins and his team worked on the design of headquarters for Netflix, sportswear company Asics, and travel service Booking.com, amongst many others.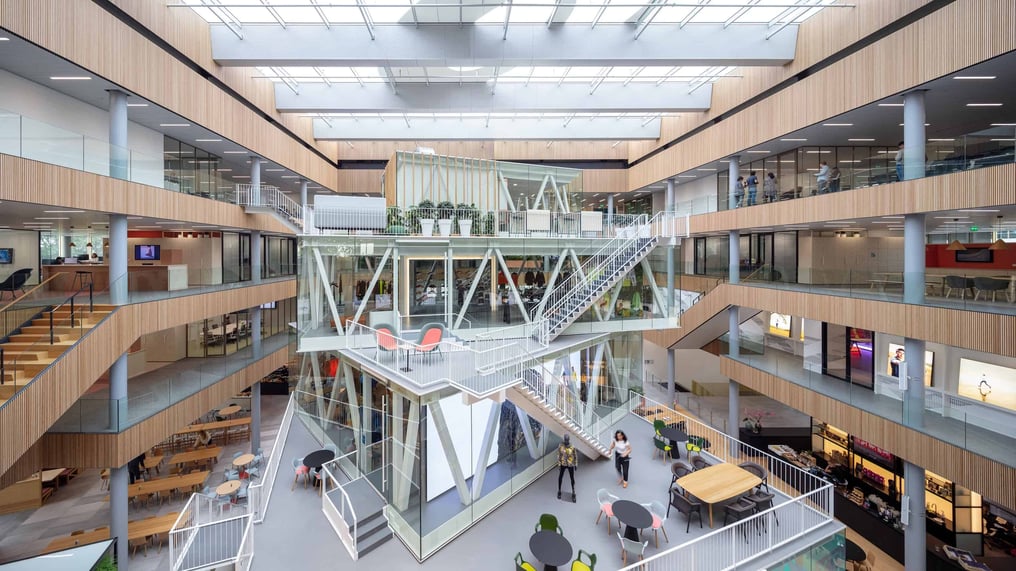 Prins argues that all of the convulsions around the role of the office were in motion before the COVID-19 pandemic. It just punched them into overdrive. "We produced a white paper about the future of the office four years ago," he says. "And all these things were already in play. Working from home was already happening though a lot of companies thought it wouldn't work. More attention was being paid to creating social spaces and more flexible offices but also to creating an office that expressed your brand identity."

As the office is re-configured and re-thought, it is its role as the embodiment of company culture and identity, mission and purpose made physical, that has been least discussed and is, perhaps, least understood. But it is increasingly central to an office's function, especially in the wake of the 'Great Resignation' and in a labour market which leaves companies competing for the best talent.

Prins and his team worked with interior designers HofmanDujardin on the workspaces at the new 65,000 m2 Booking.com headquarters in Amsterdam. The new building brings together teams from a number of different offices in what HofmanDujardin calls a "multifunctional living and working environment". As well as the CBRE-designed workspaces, it includes several bars, restaurants, breakout areas, an auditorium, a learning centre and a roof-top club. In essence, the HQ building is a "mini-city" with streets and green spaces. HofmanDujardin describes these themed break-out areas as "unique destinations" inviting employees to take "micro-holidays". This is a building that explicitly talks about the Booking.com business and brand but also engages in the new "war for talent". "Booking.com think of themselves as a tech company, even if the business is based around hotels and hospitality," says Prins. "And of course, there's a lot of competition for the best people in tech. They have to offer a lot more than a desk. So the focus was on creating a cool interior and bringing together a lot of facilities."



That war for talent is hotting up. New research suggests that almost 40 per cent of global employers are facing a talent shortage, resulting in reduced competitiveness and productivity, high employee turnover and low morale. According to the World Economic Forum, more than half of US workers are considering switching jobs. Particularly for smart young people, the job search is now comparison shopping. They can pick and choose. And even if you can attract the best talent, keeping them is just as tricky. Fully nine out of every 10 Millennials expect to change jobs every three years. And for most companies, millennials are the largest part of their workforce. The best and brightest then know they are a finite resource and they have power. They want to work for companies that share their values, who have a commitment to diversity and wellness in the workplace and social and environmental responsibility in the wider world, and who have a purpose beyond pure profit. And they are prepared to move job, and keep moving, to find exactly the right fit. Most also want to be a part of a shared culture, to learn and develop skills. They value team and collaboration and they want to be in an office, at least some of the time. For companies looking to attract the best and brightest then, the office is now a critical USP.

Businesses then have to think carefully about how they equip and configure their workspace. Many have, or are looking to, cut costs and downsize the HQ, reducing it to a rarely visited resource, there only for town halls, training sessions and the more difficult HR meetings.
Slack, which was a kind of professional social network, is now offering to pick up the slack, pitching itself as a new-model digital HQ. And all manner of software providers and platforms are making a similar pitch, that culture and collaboration can happen almost entirely remotely. It's hard though to see how a Slack-driven digital HQ can really attract potential employees or clients or bring a company culture to life. Only a physical space can do that.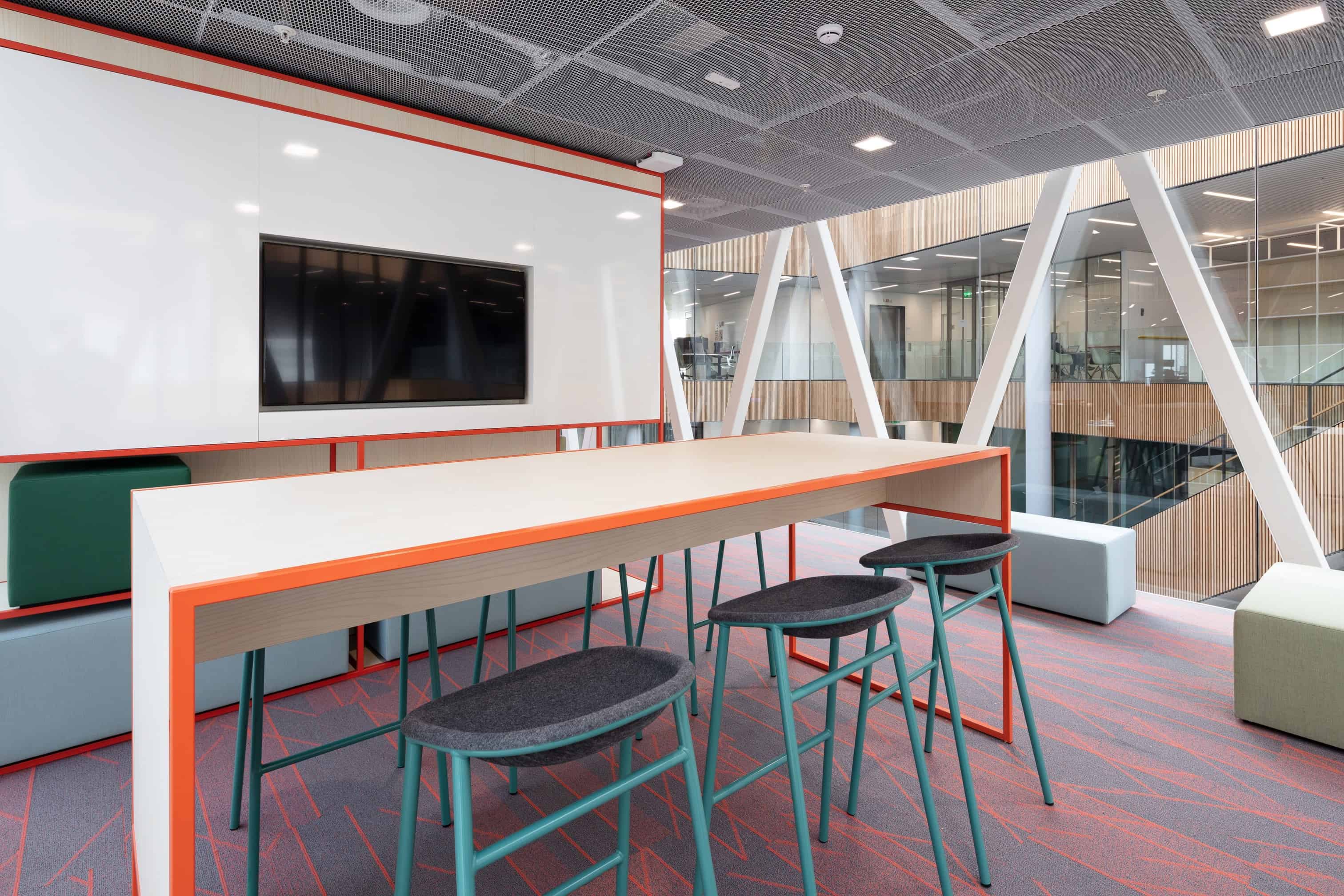 For Prins, creating that kind of space means of course sitting down with a client but also interviewing other team members and watching how they work. Together with extensive research on how the organization functions, this delivers a broad context of data on hybrid working, which results in a very complete advice.


"You look at how they are working, what difference they want to see in the future and then you come up with a solution. How you integrate all those needs is really up to the designer."
Prins and his team worked on the design of a new EMEA headquarters for the Japanese sportswear brand Asics in Hoofddorp. A purpose-built new building, it opened in 2019, just before the pandemic hit, but it exemplifies many of the key trends in post-pandemic office design, especially its emphasis on flexibility and employee wellbeing. It is also imagined as a brand beacon, to signal what the brand stands for, not just for the people who work there but for employees and partners across Europe.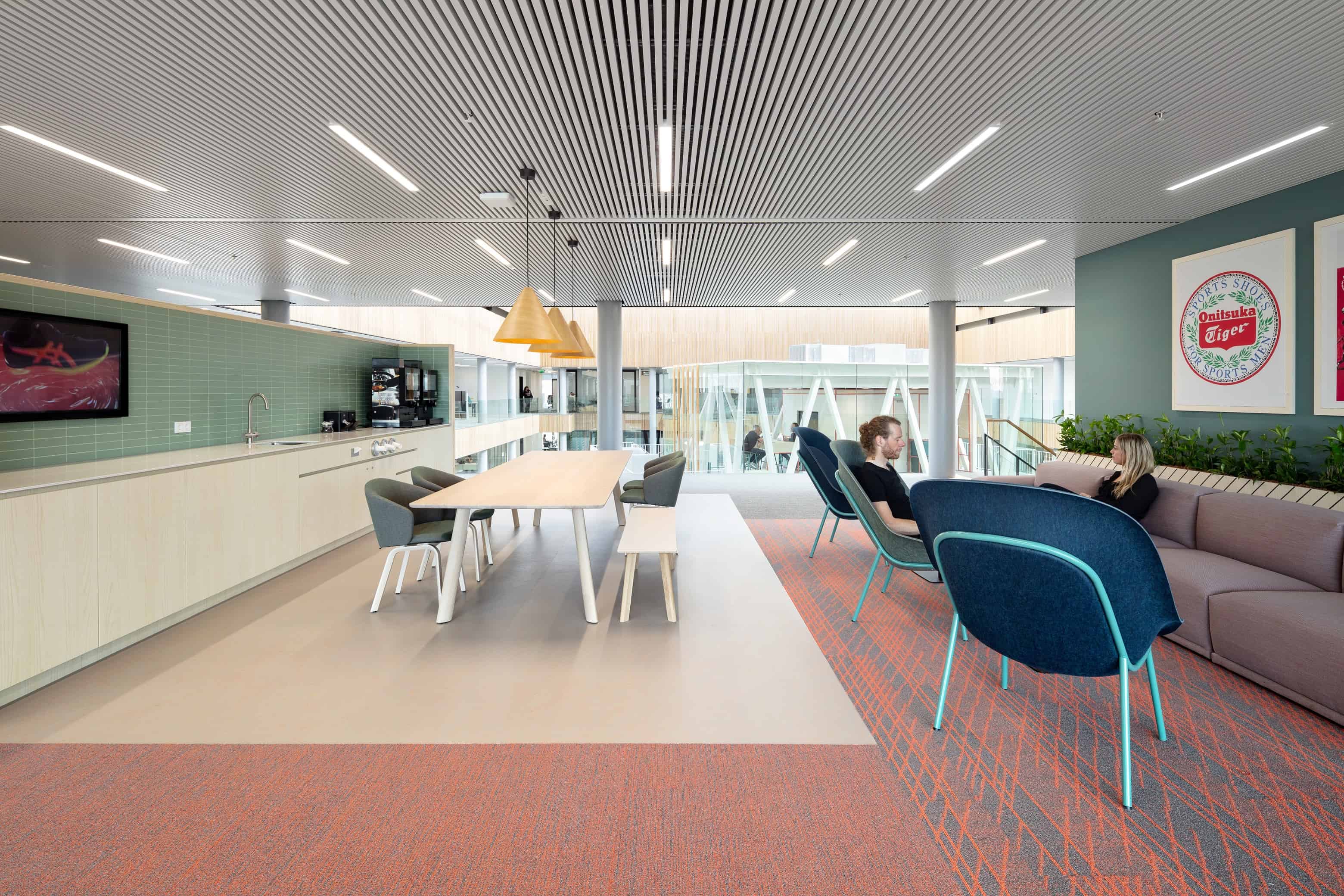 "Asics' slogan is 'Sound Body, Sound Mind' so we really wanted to incorporate that idea in the design," says Prins. The building, designed by architects Powerhouse Company, flows around a soaring atrium with 'Asics World', a multi-layer, three-dimensional showcase of Asics products, its centrepiece. Staircases wrap around that showcases and are wide enough to accommodate impromptu meetings and catch-ups. They also incorporate seats, if you really want to spend quality time with a colleague or just sit and watch office life go by. There are elevators but they have been discretely tucked away.
"The building is really open with lots of light coming in, it is a space that really breathes and invites people to move around," says Prins. "It was already sporty and inviting, that basic layer was there, but we had to incorporate the brand's sense of both tradition and innovation into the design, and a culture that is a bit less shouty and more humble than other sports brands."
Workspaces include individual workstations, meeting areas, informal meeting spaces and focus rooms. "We wanted to link those spaces to the brand's Japanese heritage but in a subtle way, relate it to Japanese ways of building, in the use of materials and textures, the construction of the walls," Prins says.
"All the ground floor meetings are themed around Japanese architecture or Manga or Cherry Blossom. It's very discreet but it's there. The aim was really to connect people and you see it in the structure of the building and the way it works."
For Prins, a company's culture should be articulated in every element of an office's design and layout. "That identity should be there at all levels. How you set up the floor and what dynamic that brings to the company, the way it supports a way of working. And you should see it in all the finishes and branding."

The new workspace then has to be a space where people want to be and want to share, where they feel valued and can do work of value, a place where the culture is positive, clear and expressed by design. It has to attract fresh talent and energise talent already on board. It has to be a USP and a creative engine room, perfectly tailored to new ways of working and living.