People First: 3 Great Examples of Human-Centered Workplaces
However different they might seem, all great workplaces have one thing in common — they put people first. Bosch AS, FULL NODE and Menzis have proven that human-centered office design is key to an engaging and satisfying working environment.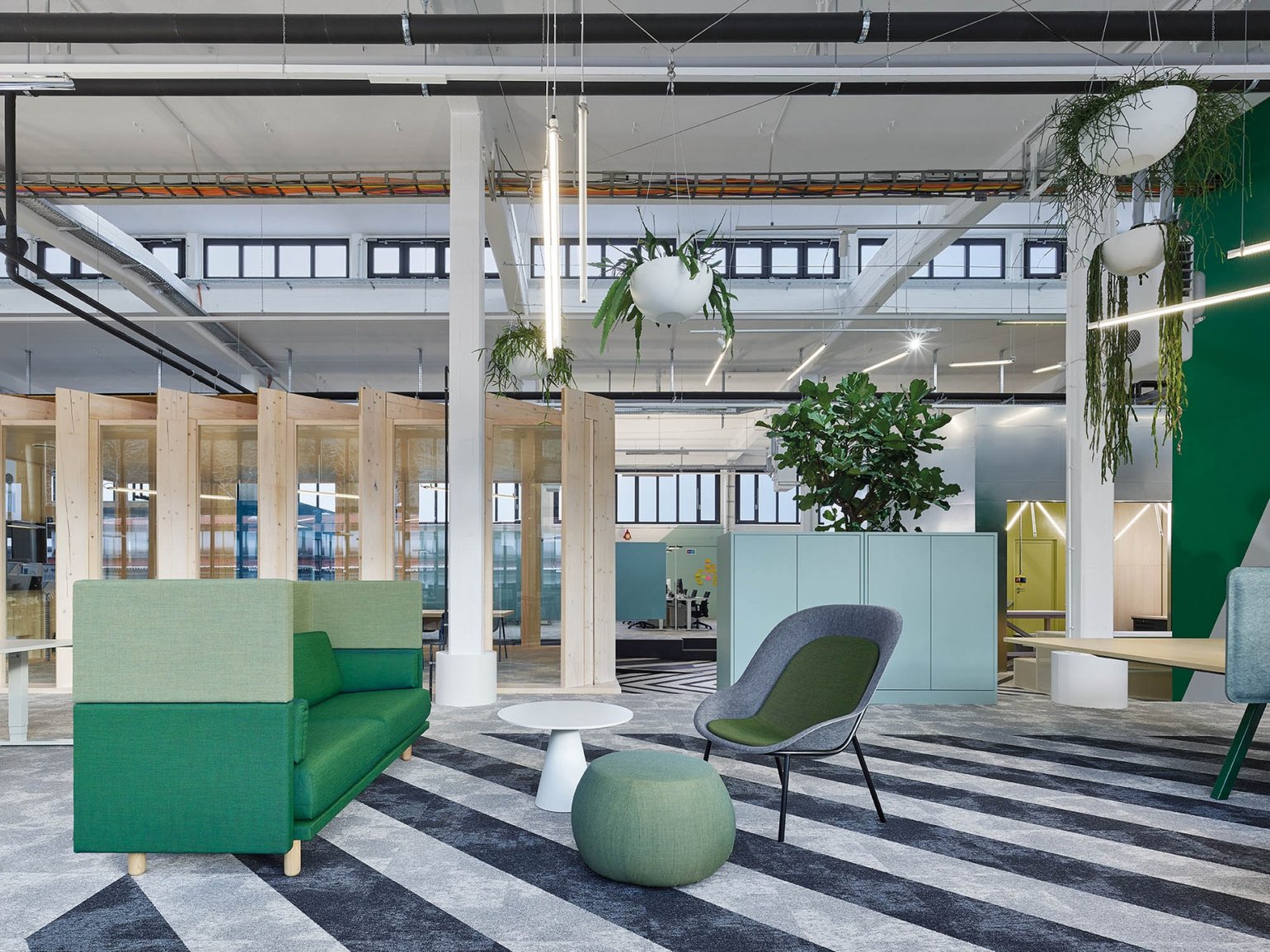 Bosch AS,
Flexible workstations for each and every need
Bosch AS lets employees choose how and where they want to work. Its the workplace design by Studio Alexander Fehre that made it possible. The architect transformed an old factory building into a future-proof office space.

The project was a huge success. Alexander Fehre managed to strike the right balance between individualism and teamwork in this office space. Instead of imposing a clear zone division, the architect created diverse multi-purpose clusters and mixed them together. These include shared tables, individual working spots, large meeting rooms, relaxed lounge zones and more. All sorts of workstations were scattered across a large factory space on purpose — to be available on-demand and foster unplanned communication.
'Communication is everything - and possible everywhere.'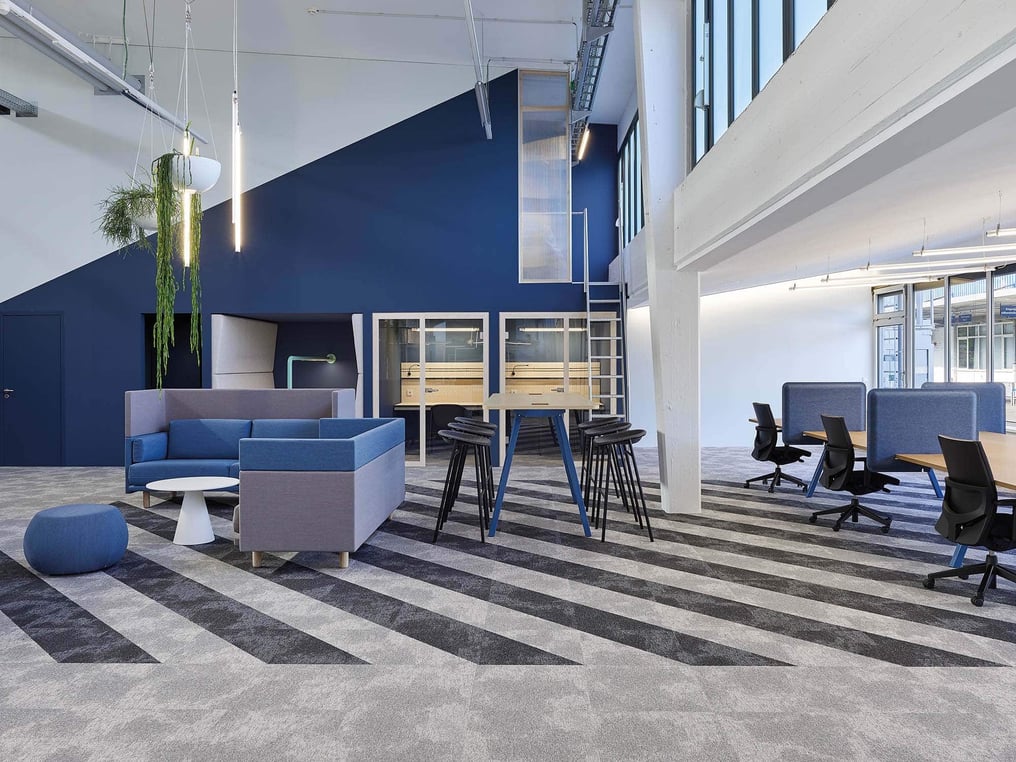 Privacy issues were treated with extra consideration — high-backed sofas and workplace dividers hade added a sensation of privacy where it's needed the most. The new office is truly flexible — from roving workstations to modular furniture. Not only letting employees choose where to work, but also allowing them to adjust the space to their needs. Diversity comes not only in the workstations but also in many breakout areas. Carefully inserted into the overall robust look, they provide an inviting space for some alone time or friendly conversation. Biophilic motives contribute to the overall pleasant look and feel.
Check the full project here.
---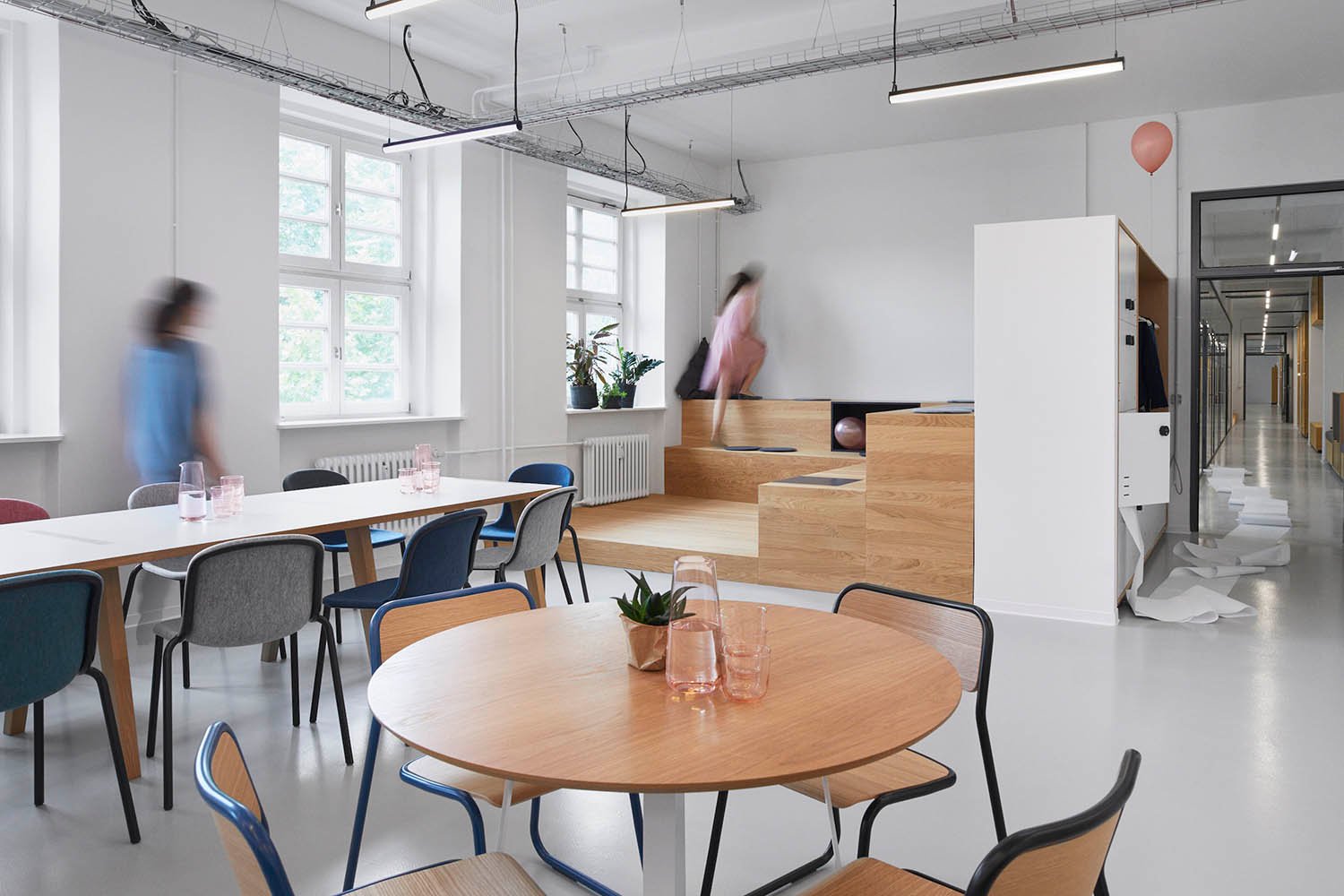 FULL NODE,
Co-working space where ideas can grow
FULL NODE has brought together the brightest minds of the blockchain community. To meet the standards of the users, space itself had to be top-notch, high on aesthetics and ultimately functional. LXSY ARCHITEKTEN managed to realize all stated requirements in the old post office building. Now, there's nothing reminding of the past — the brand-new interior follows a non-hierarchical context to foster learning, networking and innovation.

FULL NODE facilitates different working styles through a variety of spaces. When we say a variety, we actually mean it — the users can choose from 100 spots, including fixed desks, multi-sized meeting rooms, phone boxes, lounge zones and even a sleeping pod. Providing a space for any type of activity, from concentrated work to socialization.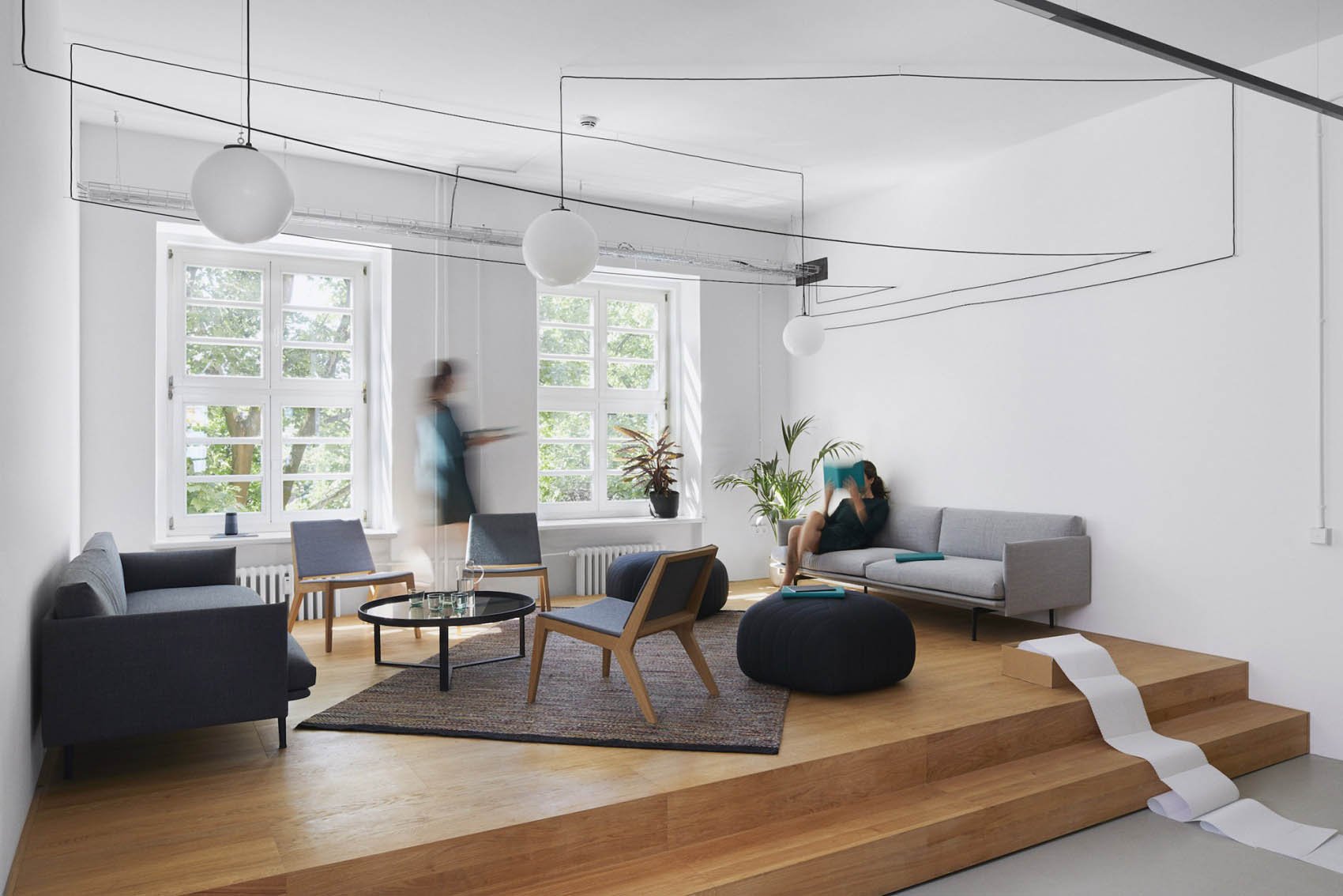 'With the focus on creating a high-quality work environment, the individual design solutions feature timeless materials and quiet contrasts.'
LXSY ARCHITEKTEN wanted to keep the spacious feeling of the place. They've achieved it by using transparent glass doors and walls serving a double purpose. They also improve the acoustics of concentration areas, giving users the desired privacy. At the same time, open areas with lounge furniture facilitate interaction. Together with extra amenities like café and workshop, FULL NODE can be rightfully called a quality working environment.
Check the full project here.
---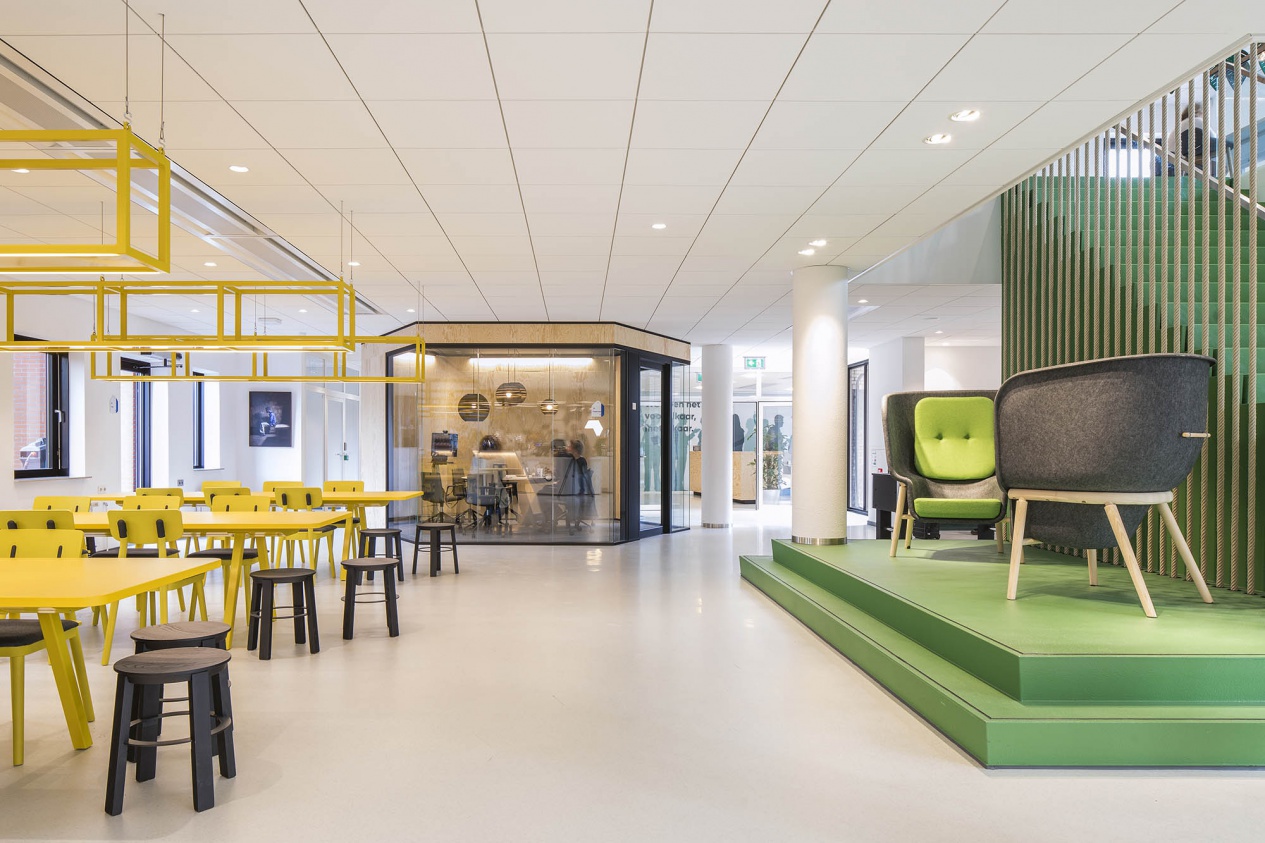 Menzis,
A vibrant and inviting workplace
Heyligers d+p were asked to redesign the building vision and interior concept of the Dutch insurance company Menzis. They've done just that — the office locations in Enschede and Wageningen were revitalised with vibrant aesthetics and thoughtful functionality.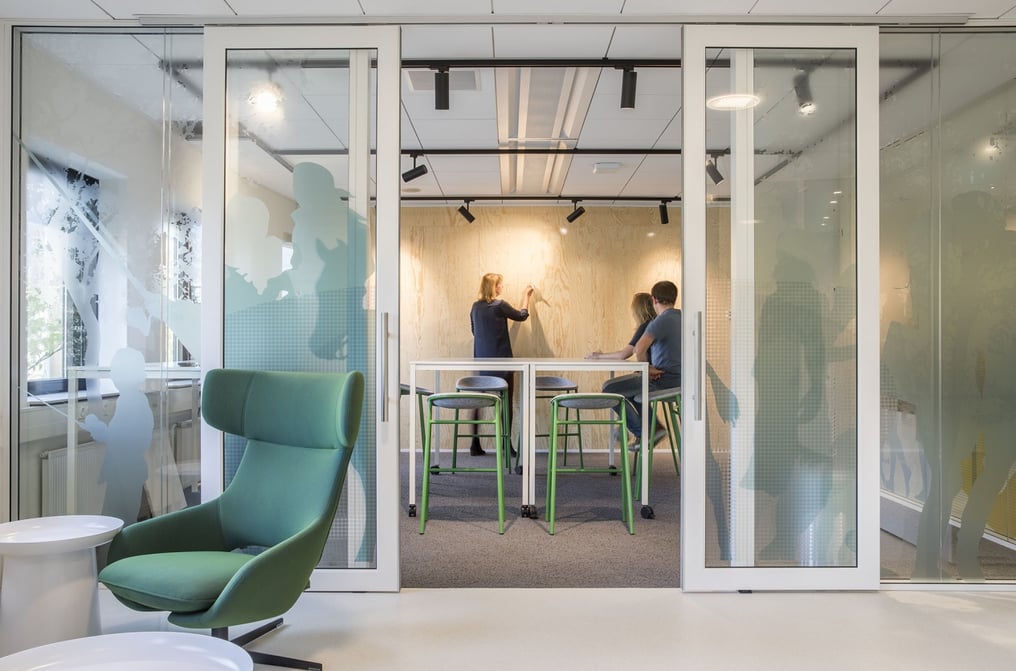 The activity-based concept is at the core of the new office design. Depending on what they do, employees can choose from numerous meeting rooms, shared desks, pods and common areas. Every location holds carefully selected furniture to support its purpose. Bar stools were chosen as an alternative to traditional office chairs in the meeting rooms. They create an informal look and the sense of equality among the standing and sitting people. Privacy chairs made a perfect match with the intimate breakout area.
'We chose De Vorm products because of their extensive colour range, allowing us to create a unique and playful look for Menzis. The natural touch & feel of the recycled PET Felt also played a decisive role.'
For Heyligers d+p, the colour was the key consideration in this project. In an attempt to make the office playful, vibrant and inviting, the choice was made in favour of green and yellow. Bright accents were combined with natural elements, like wood and plants, to finish the look.
Check the full project here.
---
Key takeaways
So, how to design a truly human-centered workplace? The above-mentioned cases leave us with several conclusions:
•

Facilitate different working styles through various multi-purpose workstations with differentiation in size. Make sure they are available on demand.


•

Add customizable features that can be adjusted to individual needs of users (for instance, modular furniture and room dividers)


•

Breakout area is a must. The choice is also essential here. Design a couple of private and social third places for both alone time and socialization.


•

Consider using privacy furniture. Pod chairs or high-backed sofas will help solve the privacy issues in your office design.


•

Don't forget about acoustics. Room dividers or wall panels made from sound-dampening materials serve both acoustic and aesthetic purposes.


•

Support the overall design concept with the right colour choice. Take into account the effects it might have on employees' mood and performance.


•

Biophilic elements and natural materials have a positive effect on employee experience.
---
If you are on the mission to design another great office, here's everything you need to know. Download our e-book on office design and get started right away!